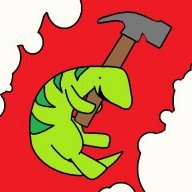 Well-Known Member
OP
Member
Joined

Jul 15, 2007
Messages

132
Trophies

0
Location
XP
Country
My brother and I have very distinct games of our childhood, and we know what all of them are. They include

- Tomba!
- Tomba! 2
- Aggressive Inline
- Bubsy 3D
- Bust a Move 4
- Crash Bandicoot Warped!

I know they aren't in the NES and such era, but we did have one and played games on it, but for some reason these I remember more.

Anyways, the game we just CANNOT figure out was for the PSOne (95% sure) and you could pick all these different ways to race down several tracks. You could luge, inline, skateboard, BMX, (maybe that was it? I don't know...) and you could buy new decks or luge-boards (whatever they're called) and such that had different stats. One level I remember in particular had a tunnel that lasted what seemed like forever (tunnel like the ones you drive cars through, lights on the sides, etc) and you could ALWAYS see the light at the end but it was awhile before you reached it. The path would split (in the tunnel) and there were different ways to go, but of course they all lead to the same exit. We never figured out how to save, but that's not necessary to know.

Can someone PLEASE tell me what this game was? I NEED TO KNOW!

Thank you in advance.