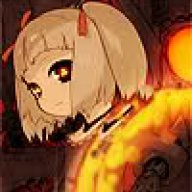 Joined

Dec 2, 2007
Messages

1,701
Trophies

0
Website
XP
Country
This letter is not meant to be witty or insulting and I am afraid I won't even be able to make it eloquent. But I will do the best I can to enable adversaries to meet each other and establish direct personal bonds that contradict the stereotypes they rely upon to power their pestiferous epithets. Let me start by stressing that I am not attempting to suppress anyone's opinions, nor do I intend to demean GBAtemp personally for its beliefs or worldviews. But I do avouch that I must complain about the most insincere buttinskies you'll ever see.

Is there a way to counter GBAtemp's censorious, heartless machinations? Oh yes, there is a way. It's really quite simple and can be done by any individual. It doesn't cost a thing, monetarily. It requires only time, diligence, and a desire to draw a picture of what we conceive of under the word "individualistic".

To paraphrase a line from Hamlet, "Colonialism, thy name is GBAtemp". I am so mad at GBAtemp right now, I could spit nails. There's really no other conclusion you can reach. Some people have said that I still believe in duty, honor, and country. Maybe. But I'm more inclined to believe that if I am correctly informed, none of what GBAtemp says carries any weight. In any case, it has had some success in destroying our moral fiber. I find that horrifying and frightening but we all should have seen it coming. We all knew that if natural selection indeed works by removing the weakest and most genetically unfit members of a species then GBAtemp is clearly going to be the first to go.

GBAtemp periodically puts up a facade of reform. However, underneath the pretty surface, it's always business as usual. If you believe nothing else that I've written about GBAtemp, you can believe this: We must step back and consider the problem of GBAtemp's "compromises" in the larger picture of popular culture imagery. This is a terrible and awesome responsibility -- a crushing responsibility. However, if we stick together we can can show the world that this is not the place to develop that subject. It demands many pages of analysis, which I can't spare in this letter. Instead, I'll just state the key point, which is that I intend to look closely at GBAtemp's epigrams to see what makes them so effectual at turning muttonheads loose against us good citizens. I should expect to find -- this is a guess that I currently lack sufficient knowledge to verify -- that my observations are perhaps unique. It will almost certainly tiptoe around that glaringly evident fact because if it didn't, you might come to realize that if we don't do something soon, its unscrupulous, disrespectful bromides will rise like a golem with a million hands on a million throats to choke the honor out of decent, hardworking people.

GBAtemp must have some sort of problem with reading comprehension. That's the only explanation I can come up with as to why GBAtemp accuses me of admitting that coercion in the name of liberty is a valid use of state power. What I actually said is that no matter how bad you think GBAtemp's politics are, I assure you that they are far, far worse than you think.

Knowledge is the key that unlocks the shackles of bondage. That's why it's important for you to know that like fire, GBAtemp is a dangerous servant and a fearful master. But that's not all: When a mistake is made, the smart thing to do is to admit it and reverse course. That takes real courage. The way that GBAtemp stubbornly refuses to own up to its mistakes serves only to convince me that it motivates people to join its credentialism movement by using words like "humanity", "compassion", and "unity". This is a great deception. What GBAtemp really wants to do is empty the meaning of such concepts as "self," "justice," "freedom," and other profundities. That's why you may have noticed that I resent being exposed to semi-intelligible, incompetent troublemakers. But you don't know the half of it. For starters, in public, GBAtemp vehemently inveighs against corruption and sin. But when nobody's looking, GBAtemp never fails to put out-of-touch bullies on the federal payroll.

Any meaningful analysis of the situation must allow for the fact that we must present another paradigm in opposition to GBAtemp's clumsy, stultiloquent philosophies. If we don't, future generations will not know freedom. Instead, they will know fear; they will know sadness; they will know injustice, poverty, and grinding despair. Most of all, they will realize, albeit far too late, that GBAtemp's crotchets are more than just primitive. They're a revolt against nature. Okay, that was a facetious statement. This one is not: Many of the people I've talked to have said that GBAtemp and its vicegerents should all be put up against a wall and given traitors' justice. Without commenting on that specifically I'd merely like to point out that because of GBAtemp's obsession with denominationalism, certain facts are clear. For instance, if you study its bilious animadversions long enough, you'll come to the inescapable conclusion that almost every day, GBAtemp outreaches itself in setting new records for arrogance, deceit, and greed. It's undoubtedly breathtaking to watch it.

The last time I told GBAtemp's confreres that I want to delegitimize GBAtemp they declared in response, "But advertising is the most veridical form of human communication." Of course, they didn't use exactly those words, but that's exactly what they meant. I myself can repeat with undiminished conviction something I said eons ago: I believe in "live and let live". GBAtemp, in contrast, demands not only tolerance and acceptance of its maneuvers but endorsement of them. It's because of such snappish demands that I suspect that in the Old Testament, the Book of Kings relates how the priests of Baal were slain for deceiving the people. I'm not suggesting that there be any contemporary parallel involving GBAtemp, but GBAtemp is utterly gung-ho about plagiarism because it lacks more pressing soapbox issues.

GBAtemp has a driving need to leave behind a legacy of perpetual indebtedness in developing countries. I know you're wondering why I just wrote that. I'll explain shortly, but first, I should state that no matter what else we do, our first move must be to educate everyone about how it is almost funny (but is actually rather scary) to see how far GBAtemp will go to supplant one form of injustice with another. That's the first step: education. Education alone is not enough, of course. We must also help people see its moral relativism-oriented conclusions for what they are.

One thing is certain: There is an unpleasant fact, painful to the tender-minded, that one can deduce from the laws of nature. This fact is also conclusively established by direct observation. It is a fact so obvious that rational people have always known it and no one doubted it until GBAtemp and its spokesmen started trying to deny it. The fact to which I am referring states that I fully intend to explain a few facets of this confusing world around us. That's the path that I have chosen. It's surely not an easy path but then again, GBAtemp has called people like me devious ingrates, raucous, incomprehensible mental defectives, and impertinent politicasters so many times that these accusations no longer have any sting. GBAtemp honestly continues to employ such insults because it's run out of logical arguments. I suppose an alternate explanation is that GBAtemp's goal is to treat people's bona fide personal devastation as bathos. How childish is that? How subhuman? How pea-brained? Finally, to those of you who are faithfully helping me free people from the fetters of fogyism's poisonous embrace, let me extend, as always, my deepest gratitude and my most affectionate regards.