Emulate the Planet!
OP
Former Staff
Joined

Jan 3, 2008
Messages

10,578
Trophies

0
Age

46
Location
Website
XP
Country
Welcome to the 32nd issue of the GBAtemp Recommends Revival Project! This project is a weekly feature where we share our favorite games and applications with you. The things we recommend may be "old school" titles, a Homebrew, a ROM hack, sleeper hits, an application, etc, but one thing's for certain, we think they are fantastic and deserve your attention!
GBAtemp Recommends!
Super Mario Bros. 2​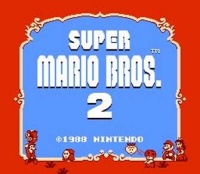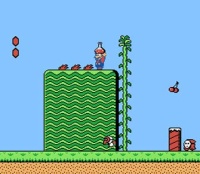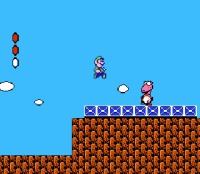 In early September, 1998, gamers were treated to a long awaited, heavily anticipated, and extremely well hyped sequel to Super Mario Bros. Developed and published by Nintendo under the supervision of Kensuke Tanabe and Shigeru Miyamoto, Super Mario Bros. 2 quickly became the game to have.

SMB2 started out as a prototype sequel to SMB1, and was eventually reworked into Super Mario Bros.: The Lost Levels. After The Lost Levels was deemed too difficult the North American release was scrapped and Nintendo of America began to take a second look at the SMB2 prototype. The end result was a game so popular that it was eventually released in Japan as Super Mario Bros. 2 USA, re-released for the SNES in the Super Mario All-Stars compilation, and again for the GBA in Super Mario Advance.

The gameplay of SMB2 was an extension of SMB1. It looked, felt, and played like a true sequel but used an odd concept for the time, the use of dreams. The game world was changed from the Mushroom Kingdom into a dreamland known as Subcon. the player must battle Wart, the king of the land, in order to save this world. As an interesting distinction from SMB1, the game included 4 playable characters, each with their own special ability. Mario was able to run faster than Luigi but retained average abilities, Luigi could jump higher, Toad could move the fastest, and the Princess could extend her jumps by floating. These interesting abilities allowed for many gameplay variations and in some instances made it possible to reach special areas such as warp zones. Further distancing itself from SMB1, the sequel featured vertical stages in addition to classic horizontal platforming stages, a health meter, and hidden coins. Coins were saved up for the end of each level, where a slot-machine allowed gamers a chance to win extra lives. The slot-machine was an interesting mini-game that frustrated those who were not able to master the correct timing required to earn up to 3 extra lives.

SMB2 was given a memorable musical score and a graphical update that helped it stand on its own. It pulled far enough away from SMB1 to feel like a new game but stayed in the universe just enough to seem familiar. Cleverly hyped through TV commercials and magazines, the game quickly went on the wish list of every gamer. After being released it sold over 10 million copies, making it the 3rd best selling NES game at that time. Yet it is often overlooked by gamers, due in part to its lack of popularity when compared to SMB3. If you've played it or not, now is the time to set out on an SMB2 adventure… we recommend it!

Genre:
Platforming
Type:
Retail
Release Date:
1988
Developed/Published by:
Nintendo
Directed by:
Kensuke Tanabe
Produced by:
Shigeru Miyamoto
System:
NES
If you enjoyed this weeks edition of GBAtemp Recommends! please leave a comment in the thread. This helps us monitor feedback and ensures we keep posting these articles in the future.
Official GBAtemp Recommends! Mini-Page & History