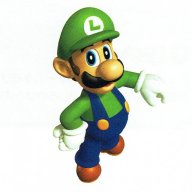 Active Member
OP
Newcomer
Joined

May 25, 2021
Messages

37
Trophies

0
Age

23
XP
Country
So I'm pretty new to modding, i've installed cfw on a few 3ds's and a wiiu and I just had a thought about gateway's firmware and r4 cards. i know nothing about code right now so i'm sorry if what I ask makes me sound like an idiot lol

since gateway works by first running an exploit in ds mode, cant that firmware just be loaded on the 3ds r4 card? what is stopping a 3ds r4 card from executing gateway's red firmware after the ds mode exploit?

i know most responses to 3ds flashcart questions is just to install cfw, so to hopefully avoid that I'll clarify something: i'm curious about 3ds flashcarts because I collect 3ds consoles and it'd save me some time and money to load games from a flashcart rather than buying large sd cards for each console to install games from FBI. i also already have an r4 card so it'd be cool to be able to load 3ds games from there too without having to buy a separate flashcart.

so, thoughts? also does anyone know where i can find the original gateway-red firmware (that doesn't purposely brick your console)? or the gateway clones even?