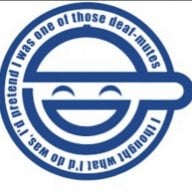 In Law we trust.
OP
Member
Joined

Dec 5, 2005
Messages

2,229
Trophies

0
Age

29
Location
Website
XP
Country
I usually don't write blogs, but seeing as this is my fifth year here, I'll make a exception. How I came to hear all the way to what I'm still doing here. I'm the 33,903rd member of GBAtemp and back when I joined, the community was quite a bit smaller. But life moves on and good things tend to grow larger and larger until we reach today. Many of the members that hung out with on IRC, ds gaming, xbox live and other various forms of online gaming/chatrooms are going on in different direction in life. I'm still here though, typing this out on GBAtemp. Coming here is something that I do out of habit now as I mainly talk on IRC and not the forums.
Habit and the Tempcast; a little pet project that I've devoted quite a bit of time and energy. Always thought it good to work on something to keep my mind busy. Wi-Fi Nights and now this.

5 years? I'd say it's been a short time, but really it's not. Every year something's changed for me. Whether it's my outlook on life or the building of my character, life never seems to down with the lessons. Life is a live, learn and die experience everyday. Everyday I wake up to the priceless fact that I'm young. It's both a joyous, amazing and harrowing all at the same time. Going into the world not having the knowledge needed, but having the vibrancy and enthusiasm to try and obtain it. I look to the older around me and hope that they can help me, because I sure as hell don't know what I'm doing (but do even they know?). When I say something, I pray that I don't sound like a idiot talking out of my ass. Does anyone ever reach the plateau of personality? Not obtaining the perfect zen and enlightenment, but to have the confidence in their words. Youth is a bitch. A young, horny and slightly stupid bitch :\

Almost the end of the year. I thought I'd be gone by now honestly. You make plans, then life happens. Anyway, I'll end this ramble here.