Profile is this icon at the top left hand corner of the home screen.
There is an option in both EdiZon SE and Breeze to make profile launch either EdiZon SE or Breeze.
Installing either app will not automatically make this happen. You have to set it deliberately.
Using profile to launch the app is faster and requires less key presses. (Home, up, A)
To remove profile shortcut use one of the following screen to do it or it can be done manually by removing \atmosphere\contents\0100000000001013
To do that you go to sysmodule manager in EdiZon SE. Use X, Y or L to set what you want.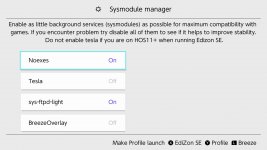 On Breeze use Y to toggle whether profile short cut is taken over. Changing from 0 to 1 will make profile launch Breeze. Rstick left to make profile launch EdiZon SE. Rstick right to make profile launch a special version of Home Brew Menu that opens to Breeze directory.