Well-Known Member
OP
Member
Joined

Aug 23, 2007
Messages

574
Trophies

0
XP
Country
ultimate guide to M3 Perfect. everything you wanted
to know about M3 but were afraid to ask.
step 1, download the latest firmware.
you can get it from
http://linfoxdomain.com/nintendo/ds/
ignore the version 36, it is for chinese M3's only,
the letters indicate the language, for USA carts,
you will want the v35e, English. which presumably
will be the final firmware ever.
also, updagcSD is SD and updateGC is compact flash.
step 2,
its best to use the M3 Client software by processing 1 game at a time.
the M3 Game Manager only patches games if Real Time Save is selected,
or if Real time Clock is required for say Pokemon or Boktai.
otherwise it does nothing more than create a save file in GAMESAVE Folder.
opening the M3 Game Manager software will show 2 panes,
the left pane is where the SD card is located.
the Right Pane displays games in whatever folder you selected.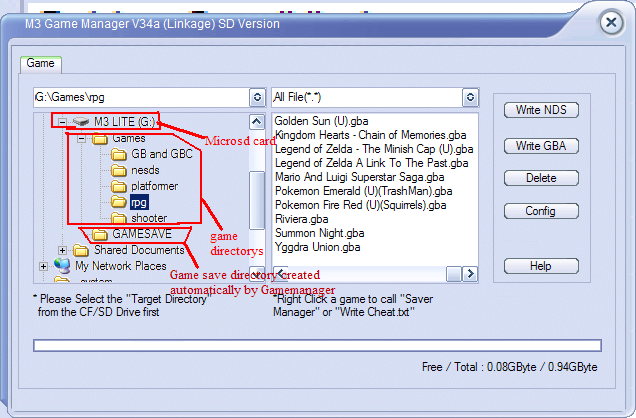 first you need to browse to where the SD card is located in the left box.
then pressing "Write GBA" will let you select a game,
then another box comes up. in the RealTimeSave Tab check Real Time Save.
(Many Games will Crash if RTS is enabled, in which case you will need to re-process it)
the "Rom Patch" Tab displays the following options;
Gba Patch
-Software Patch
-Hardware Support 1
-Hardware Support 2
-Software Patch
is simply a SRAM patch for some problem games that use EEPROM.
"Digimon Racing", and "The Tower SP" both need to be patched.
the easiest way to tell if a game needs a SRAM Patch is to load
every game then look in GAMESAVE folder, if there are any .SAV
files that are Size:0kb then they need SRAM Patch.
(Note: you should ignore the Software Patch Option and use
a program called GBATA. it has a better SRAM Patching Tool.)
-Hardware Support 1
is the Auto Patch option. the Software will patch games as needed.
for Pokemon it will patch for Internal Clock.
sometimes it will remove copyright protection.
-Hardware Support 2
this means it does nothing. it literally just copies the
GBA game over and creates a save file in GAMESAVE
folder, which one could do themselves without software.
so really, you can ignore the SoftwarePatch and HardwareSupport2
options, and leave it on the default settings. you can also Ignore
all other buttons besides "Write GBA" and "Real Time Save".
Note: Right Clicking on a Game will alllow you to enter "Saver Manager"
where you can backup your save. but the software will crash if you
have too many files on your 2GB SD card.
so here is what you do:
create a GAMESAVE folder on any hard drive or empty flash drive,
at the root, for example C:\GAMESAVE . place the GBA game
and .SAV into the new GAMESAVE Folder and browse to it from
M3 Game Manager. now you can use Saver Manager without crashing.
Step 3
the M3 Perfect has a 99 files per folder limit.
so because all save files are stored in the same folder,
you can only have 99 Games that use saves.
But,
There are MANY games that use only PASSWORDS for saving.
in which case you can Delete the save files for these games,
allowing more games to be put on the SD card.
there are some really high profile games that use PASSWORDS,
Simpsons Road rage, Worms World Party, UNO, Turok,
Tetris Worlds, Star X, Super Army War, Smashing drive,
Road Rash Jailbreak, R-Type III, Punch King, Popeye,
Gundam Battle Assult, Iridion 3D, Iridion II, Downforce,
Godzilla Domination, Ecks Vs Sever, Double Dragon,
Desert Strike, CT Special Forces 1, 2 and 3. Army Men.
All these you can delete the Save files.
if you want to know which games use Passwords, just
go to advanscene.com, click Advanced Search, select
GBA, Search for Save Type, write NONE in box.