Spider Solitaire DS 3.1.1
Fixes auto-win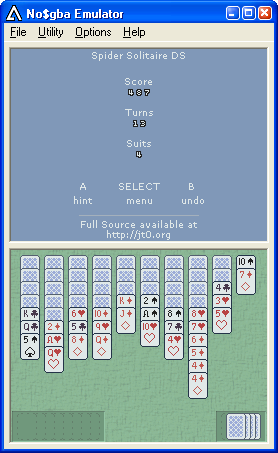 A single fix here. You can no longer press the 'start' button to auto-win. Download below.
[title:Rules of spider solitaire]To start, 54 cards are dealt face-down over 10 piles with the top-most card of each pile face-up.
You then have 50 cards left (giving a total of 104 cards in the game) that can be dealt 10 at a time as long as there are no empty piles.
The objective then is to clear the deck by arranging cards of the same suit into piles of King to Ace. When you do, it is automatically removed from play (and placed at the bottom left of the screen).
Only in-sequence piles of the same suit can be selected and moved.
However, this selection can be placed on any face-up in-sequence card. For example, a 6 can be placed on any 7 regardless of suit as long as it is face-up.

Download

Source