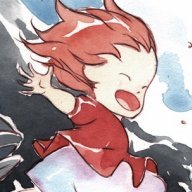 Joined

Jan 6, 2004
Messages

688
Trophies

0
Age

38
Location
Website
XP
Country
I've been in America for the last month. I've enjoyed the food, not working, meeting old friends and driving, but alas, tomorrow I return to Japan.
My last six months in Japan have been poor and while I hope the next (and for the next few years, final) six will be better, I've braced my self to simply weather the next half year and return home.
In any case, my problems with my current living situation are not the reasons I'm posting. I've got two things going on regarding video games.
First, I'm modding one of PS2s, at least. I've ordered a codebreaker's disc, downloaded the newbie MC Boot exploit, and am bidding on network adaptors for my fat PS2. I'm looking forward to playing a lot of the PS2 games I didn't get to play the last couple of years (Okami, Persona) by using a HD on my PS2. It's also good because I can install my Japanese PS2 games to the HD and play them (right?). I'm still a little confused by the entire thing but it seems like all I need is my fat PS2, a free memory card, a bootable disc (Codebreakers 9), and the exploit. Si?
I'm also considering modding my slim Japanese PS2 but am not entirely clear on the what I'll get out of that. Can anyone tell me about it?
Second, I'm probably getting a PS3. I haven't decided yet, but if I do I'll try to get this
Ceramic White Dragon PS3
. I'm not keen on Yakuza 3 and plan on selling it as soon as I get the box. I may also try to get a second machine to throw up on eBay.
Should I get a PS3? There are some games I'm interested in and the region free capabilities seem great (I'll probably end up buying the Japanese version of Final Fantasy 13, for example). I've looked through the essential list and there seems like enough stuff to keep me busy for a while. Also, I like the idea of installing Linux on it - if I can play NES and SNES ROMs on it I'm set - I'd like one easy place to play Earthbound, Super Metroid, and FE Genealogy of the Holy War. Anyone install emulators on the PS3 and have any reports as to how it plays (I'm looking at Ubuntu running one of the lighter window managers).
As for games, I'm looking at Valkriya Chronicles, Disgaea 3, that samurai spin off of Yakuza who's name I can't remember, Oblivion, Fallout 3, possibly Orange Box (anyone know if the patch fixed that?), Folk Soul, Super Puzzle Fighter, (maybe) Siren 3.
Coming out soon I'm looking forward to Final Fantasy 13, Nobi Nobi Boy, Fat Princess, and Biohazard/RE5 (another one I'll probably end up buying the Japanese version of).
Speaking of which as a Japanese PS3 - if I buy an American game, it will play in English, right? Games don't allow you to chose the language?
My brother has a 360 and I've considered getting one (I thought Mass Effect was pretty cool and a lot of the cross platform stuff I want to get, Oblivion, Fallout 3, are on it - but import games are not going to work). I have no interest in Home, either.