i allready try depleting the battery and charge it overnight
i allready open hekate a couple of times.
i use this a fusee linux battery still not working from gba forums (cant send links) and still at 1%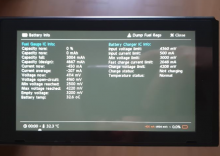 this is the battery information in hekate v5.3.2
im running FW 10.1.0 with atmosphere 0.14.1 (im usign the latest because yesterday i update it because many people say just update it and it will fix it)
pleasse is there anything i can do??