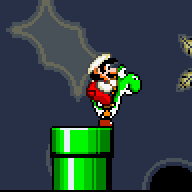 Joined

Dec 22, 2012
Messages

900
Trophies

0
XP
Country
Hello GBAtemp.
For my first post, I present to you multiple new versions of CATSFC, the Super Nintendo emulator for the DSTWO based on Snes9x 1.43. I did not rename the project or its system folder; I left it as CATSFC.
View the source! http://github.com/ShadauxCat/CATSFC
(with an issue tracker too)
Get the plugin! http://filetrip.net/nds-downloads/flashcart-files/latest-catsfc-f31847.html
and, if you like,
Aeter's LEDS2-Orange skin for CATSFC
* 1.36:
File selector improvements
. Notably, directories with more than 511 files or 63 subdirectories will not crash CATSFC upon being displayed. Going to the last page with the R button also won't lock you to that page until you press Down, Up, Up.
* 1.36: The
Screenshot slideshow function
doesn't freeze with an exception if you have no screenshots.
* 1.34: The GUI now has 8 rows, for denser information in the file selector and cheat interface.
* 1.34: The saved state menu now always shows the screenshot of the saved state you're dealing with, even when creating or deleting them (!).
* 1.34: Rapid button presses and releases should be ignored much less often.
* 1.34: Button auto-repeating in the menu is now set to 1/20 second instead of 1/5, with the first repetition at half a second.
* 1.34: The position in a submenu is kept in case you want to enter the submenu again.
Other changes, overall:
Emulator
* The
highest CPU speed
is selected by default. This drains the battery faster, though. Other CPU frequencies are still available and apply per-game as in NDSSFC 1.06 (since 1.08).
* Keep the Audio Processing Unit (APU) emulation running when you mute the sound via the interface. This allows you to load a saved state made with the sound off, and then
enable the sound without the emulation freezing
. (Older saved states will still freeze! Only new ones will work correctly in the face of disabled sound.) (since 1.11)
*
Cheats! Game Genie, Pro Action Replay and Goldfinger.
The
supported format has changed from CATSFC 1.1/NDSSFC 1.06
and is described in post #17. Read README.md in the download for more information (since 1.09). Multi-part
cheat codes
are grouped in the cheat interface (since 1.31).
*
Saved state slots
can now be chosen and manually
overwritten by you,
the player. You also have
16 slots
for saved states instead of 10. This allows you, for example, to save your backtracking in a game to slots 2-5, and the main path to slot 1. Or save multiple endings to states 12-16. See a note about saved state number "changes" in
post #164
(since 1.19).
*
Hotkeys
! Temporary fast-forward, return to menu and toggle sound (since 1.23), as well as save/load to state #1 and toggle full-screen (since 1.31).
* Better
sound output timing
for games that run fast enough, with
32 kHz interpolated sound like the SNES
. Helps with games that use loud samples or the noise channel (since 1.29).
*
Speed up
CPU opcode emulation, background/tile rendering, sprite rendering and audio rendering by reducing memory accesses. Also eliminate checks for 16-bit video, 16-bit audio, stereo and reverse stereo.
*
Optimise for speed
. Many explicit delays have been removed, more importantly the 50 ms delay before and after loading a ROM, and the 179 milliseconds it took to zero the memory that holds the current ROM. Loading a ROM also occurs on the highest CPU frequency, regardless of settings.
* The ROM (*.smc, *.sfc) and cheat (*.cht)
file selection screen
now scroll the selected file name more evenly and faster (since 1.21).
Game compatibility
* Secret of Mana, Seiken Densetsu 3 (Secret of Mana 2), Treasure of the Rudras: Display the menu text as 4 pixel wide tiles.
* Seiken Densetsu 3 (Secret of Mana 2) and translations: Fix unreadable message boxes caused by SNES resolution changes (since 1.20).
* BS Zelda no Densetsu compatibility was lost (since 1.11).
Display
*
Manual frame skipping
, a new option in the Video & audio menu (since 1.15).
* Add a toggle to
make audio or video fluid
. By default, video is fluid, which makes audio jitter up to 23 milliseconds (which is less than 92 milliseconds!). This is not audible in many games (since 1.25).
*
PAL timings
, 50 FPS, are now accepted by CATSFC (since 1.15).
*
Square pixels by default
, showing the middle of the screen; the image is not smooshed (since 1.08). Other display modes are still available and are more clearly labelled in the Options screen (since 1.13).
* Display Mode 4 is now an
anti-aliased whole-screen
mode (since 1.13)! Great for when you have to see the entire screen for a game, but Display Mode 0 looks bad.
See post #72
for an idea of what this looks like.
Emulator menu
* Narrower, better-looking
font
(it's Pictochat's font) (since 1.08+fontfix).
* Taelis's
French
translation now appears in the interface under Options/Language (since 1.08). The font was needed for this one, because Verdana.odf had no definitions for accented characters.
* Other localisations available in CATSFC are
German
(Deutsch, since 1.29),
Dutch
(Nederlands, since 1.29),
Spanish
(Español, since 1.29),
Italian
(Italiano, since 1.31),
Brazilian Portuguese
(Português brasileiro, since 1.31) and
Simplified Chinese
(since 1.33). Thanks to SignZ, Aeter, Boriar, Alessandro Pelliccia (github: alexinfurs), Diego Liberal and Syphurith, respectively, as well as Charli and jomaper for changes and suggestions.
* "NEW", "RETURN" and "RESTART" are now
localised
as "New game", "Return to game" and "Reset game". All three are on the same style of button (since 1.21).
*
More readable text
in all menus: the main menu has white on a darker purple for inactive items, and the other menus have dark purple on white instead of the old light teal (since 1.21).
* The menu does not react to extended (> 1/5 second) button presses by opening or closing multiple menus anymore (since 1.29).
DS functionality
* Suspends when the
lid is closed
, during emulation (since 1.14) and the menu (since 1.27). Battery usage and timings yet unknown.
*
Perfect controller status synchronisation by default
(since 1.29), at the cost of making
automatic frameskip omit 2 frames in a row
. This is needed to avoid congesting the DSTwo-DS link so much that the DSTwo can't request button presses. You can still set 1 or 0 frameskip manually, but beware: you may find yourself unable to press or release buttons every so often for many consecutive seconds!
* Better touch handling: the Touch Screen now works to
load a cheat file
(Main Menu/
Cheats
) and now updates the user interface's
language
(Main Menu/Options). Tapping a cell in the Load saved state row now shows its
screenshot
(Main Menu/Saved states). Tapping an empty row beyond the last item in a submenu does not invoke a phantom option from the next menu in RAM anymore (since 1.21).
Audio
* Lower audio
loss
, using Settings.SoundSync = TRUE (since 1.08), only when /Video & audio/Fluidity is set to Prefer fluid audio (since 1.25).
Meta/Extras
*
Icon change
(as of 1.11). The plugin now has a much more beautiful SNES controller without the CAT as its icon.
*
New icons
for the main menu, from the
Tango Icon Library
and the Tango-inspired RRZE Icon Set. See
copyright
for more information (since 1.21).
* The
loading screen's Engrish
("Enjoy yourself! All pleasure in it"), while it was funny,
is gone
(as of 1.11) and replaced with a SNES controller and the word "Loading...". Update at least CATSFC/system/gui/boot.bmp on your card to get this one.
*
Language files
improved, with frame skipping options added. Update at least CATSFC/system/language.msg on your card to get this one.
* A much better, Engrish-free,
README
file for compiling and installing the emulator (as of 1.09), as well as creating more translations.
*
Fewer writes to settings files
. Settings files are rewritten only once you exit a submenu, and only if you've changed a setting in that submenu. If you don't change settings from their defaults for a game, the game can now have no settings file at all. This also uses up
fewer erase cycles
on storage cards (since 1.29).
Technical
* 1.29:
DMA
for
de-interleaving ROMs
. Makes loading large ROMs with esoteric memory maps that much faster.
* 1.29:
Plugin argument
support improved, thanks to BassAceGold.
* 1.27:
DMA
for copying frames to the screen.
* 1.27: Avoid sending 23 milliseconds of silence when returning from pause. Not having this silence does not cause any more crackling.
* 1.25: Replace some
memmove
s with memcpys.
* 1.24: Cut down on SA-1 and Super FX chip execution decisions. A few million instructions per second are thus avoided. (cpuexec.cpp)
* 1.24: Make sound mixing much faster by avoiding the "zero memory, add into memory for each SNES sound channel" pattern. Now only one store is done per playback sample, and the rest is done in registers. (soundux.cpp)
* 1.18: Stopped using the timer interrupt because it glitched the sound and killed the main menu.
* 1.16: Audio now runs on a timer interrupt called every 2 milliseconds. This means that the sound outputs quickly and returns to the game, also synchronising the auto frameskip and the controller status.
* 1.14: Started to synchronise each bit of the SNES controller again.
* 1.11:
Less access to memory
in inner loops.
* 1.11: Significantly
less time to set up sprites
for an image.
* 1.11: Significantly
less time for drawing regular 8x8 tiles
all over the screen. Instead of 14336 function calls per layer, each drawing 4 pixels, it's now 896 calls per layer to a small nested loop that draws the entire tile.
* 1.09, 1.10:
More speed
. Trimmed 1-8
memory store
MIPS instructions per emulated SNES instruction. Trimmed 1
return from procedure
MIPS instruction per emulated SNES instruction.