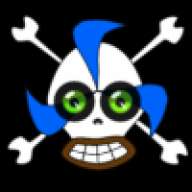 Joined

Sep 14, 2008
Messages

12
Trophies

0
Website
XP
Country
(NOTE: It's a google translation... sorry)
Hi!
He has spent almost half a year since I started this adventure by yourself (or rather madness). I took the full of enthusiasm and joy and worked hard day and night to move forward step by step and go getting big personal achievements. I have learned a lot working on the more than 6500 lines of the project (DS wifi, php, C + +, etc.). And I would have liked to give you all a minimally decent first version of the game for you vieseis virtually all the faces and talk the chat, but unfortunately I must report the abandonment of the project.
Are the reasons? I've achieved what I wanted. I wanted to prove and, above all, show me that I could make a MMORPG that is not crazy. It is possible if you have the time, knowledge and encouragement to do so and I, personally, I lost the little time available and I also lost the courage to follow. I am satisfied with what I have achieved (with those wonderful talks eglomer_feo chat in the game ... those moments of despair when Gusanito became crazy ...) but the final twist is a little thing. I feel I have achieved what I set out to, and therefore I have decided to leave the project aside and focus on my other hand. When something becomes an obligation and a burden on something we enjoy, is the right decision.
However, others will come behind me, I am sure (in fact, I have seen some other forums), and for all, or for those who want to continue with my project or just curious to see the functioning of my-transmission systems cumbersome client-server, let them here the full source code of the project, and I mean complete with all the sprites, backgrounds, fonts, earlier versions of the code, etc. order to modify what you want (for images, will need Paint Shop Pro X2). Only two conditions must be met: First, EVER do this with a commercial or something created from it (that means you can not charge for anything) and the second, in case of a derivative work created this or continue working on this, my name should appear in the credits. All this is stipulated in the
CC license (by, nd)
(
in english
) under which the release of the draft code. By the way, my code is very dirty because modular programming and I do not we get along so tomároslo patience: P
Anyway, I can only thank all the support received from all members of this and other communities, all of my patience betatesters suffered, the support received from AntonioND, an ax in this programming for the DS, and Lau, the translator of the game.
Thank you very much!!
MysdiaDS download
(MysdiaDS copy the folder to the root of your flashcard)
Download Source Code
PS: I also added the latest version of the game compiled by someone if you look forward to creating a character and test your game goes wrong though.