Joined

Jun 27, 2004
Messages

4,210
Trophies

0
Age

35
Location
Website
XP
Country
Latest Japanese Hardware Sales
12/01/09 - 18/01/09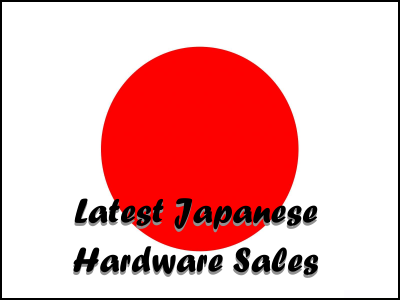 It's time once again for the Japanese hardware and software sales. This week shows an unfortunate drop in hardware sales for a second week in a row. Despite this, however, we see a plethora of brand new titles making their way into the top 10, making up half of the list! Wii Play: Mario Tennis, the Gamecube remake of Mario Power Tennis, heads the list with an impressive 56,000 copies in its first week. We also see the eventual release of Naruto: Narutimate Storm (Naruto: Ultimate Ninja Storm in the west) and Fallout 3 in Japan, which have been released previously in the Western countries.
Hardware
DSi - 62,525
PSP - 42,559
Wii - 32,333
PS3 - 20,690
DSL - 18,809
360 - 9,576
PS2 - 5,760
Software
01. [WII] Wii Play: Mario Tennis (Nintendo) 56,509
NEW!!
02. [NDS] Megami Ibunroku: Devil Survivor (Atlas) 55,466
NEW!!
03. [PS3] Naruto: Narutimate Storm (Namco Bandai) 44,065
NEW!!
04. [PSP] Dissidia Final Fantasy (Square Enix) 29,355
(Total: 848,000)
05. [PSP] Monster Hunter Portable 2nd G (PSP the Best) (Capcom) 27,032
(Total: 332,000)
06. [NDS] Rhythm Tengoku Gold (Nintendo) 25,488
(Total: 1,594,000)
07. [PS3] Fallout 3 (Bethesda Softworks) 24,488
NEW!!
08. [NDS] Wagamama Fashion: Girl's Mode (Nintendo) 22,628
(Total: 667,000)
09. [WII] Wii Fit (Nintendo) 21,847
(Total: 3,177,000)
10. [NDS] DS Uranai Seikatsu (Nintendo) 19,881
NEW!!

Source

Discuss