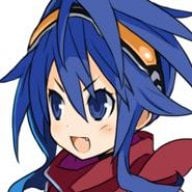 Joined

Mar 9, 2008
Messages

2,171
Trophies

0
Age

32
Location
XP
Country
I'm consumed with sadness
, guess G4 will have 1 less viewer on the 31st. (Sorry for my crappy quoting skills, I rarely ever post stories). Also, its been confirmed on air, through his twitter, and various other sites incase anyone thinks its bs
Some of you may have already heard the news. I am leaving Attack of the Show. I have been with G4 for the past ten years, and have clawed my way up the corporate ladder from production assistant to executive-producer and host. It has been a wild, unpredictable, incredible journey filled with occasional struggles and countless once-in-a-lifetime opportunities. I'm not ready to summarize my time at the network just yet, that would only amplify the scattered emotions currently bouncing around in my gut and make everything seem too real. In due time (May 31st to be precise), I'll face that reality.
What I'd like to do is quickly say two things. The first regards what I'll be focusing my attention on in the immediate future. Recently, I partnered with some incredibly talented folks and formed a production company: Super Creative.

We've got a few television shows in the works (one airing on SyFy soon), as well as digital content, interactive apps, live-events and more. Speaking of live events, those who attended my Los Angeles nerd-carnival leetUP know that it was my dream to tour the spectacle around the country. That is happening, and soon. As in, this year, soon! Tour dates will be announced soon, and you can check out the event sizzle for a peek at the insanity.

Secondly, I want to address those who are saying "Attack of the Show is dead." While I am admittedly (and rather embarrassingly) flattered by the notion of my departure "killing" Attack of the Show, I have to disagree for a myriad reasons. For starters, it's been said a thousand times. It's easy to say. People claimed Attack was dead on arrival five minutes into the first episode! They said it was dead when Kevin Rose left. When Sarah Lane moved on. When Olivia joined. When Olivia left. Once Alison signed-off. And now, people are saying it because I have announced I'm parting ways.

Change is often met with fear and uncertainty, sometimes with sadness or anger; and occasionally that negativity manifests itself into horrific visions of a falling sky. Yet each time Attack has been "over", it has re-invented itself and ultimately persevered. While I'd love to take full credit for that, I can't in good conscious. Attack lives on because the show is greater than one "host". Attack is combination of interesting topics and pure irreverence wrapped in a warm-tortilla of authentic love for "digital pop culture"; served up not by a single host, but by an entire team of wonderful creatives. In fact, the label "team" does them a disservice, for they are a family. From our interns, producers and writers to our entire studio crew, everybody at Attack bleeds passionately to inform and entertain on a daily basis. That will not change. They are single most talented family I've had the privilege to live amongst. If they are given the proper resources and opportunity, I have no doubt they will continue to create amazing things, and further cement the fear that this moment is my "Dunkleman". No offense, Brian.

This is all very fresh, and I'm rushing to get these thoughts out before hopping down to the studio to host a live Attack of the Show. There are still several shows left, and while I'm excited for what awaits on the other side, I'm going to breathe deep and enjoy the rest of the ride. I hope you all do the same. Hell, I'm even springing for the souvenir photo at the end of this one.

Thanks again for the incredibly kind and supportive words.