Joined

Nov 21, 2005
Messages

35,811
Trophies

3
Website
XP
Country
Time for a GBAtemp book game club. The series could be summed up as each edition a selection of a game, game series or a related selection of games is made and after that those that wish can recount a playthrough and discuss the game as a whole or various aspects of it.
We hope our selections are interesting and aim to make them so but this is not intended to be a top ? games list of some form as those are quite limiting and might miss out on something that is really worth knowing about. Occasionally we might state another criteria used for the selection (we had a nice mini series a little while back on games that appeared in Europe but did not see a North American release) or we might set a challenge run (completing a game is one thing but there are certain things you can do to change the experience radically and before trophies/achievements were a thing they were all the rage).
We might occasionally move outside it (although usually not outside the reach of an emulator for the DS) but most of our selections will come from the sometimes still growing libraries of GBA, DS and Wii commercial releases, homebrew, leaked versions of games and rom hacks.
#48- Megaman Battle Network 5 (DS and GBA)
The GBA saw many RPGs but most were ports/remakes/might as well be remakes of 8 or 16 bit games, early final fantasy clones, tactics games or pokemon clones but Capcom made (and depending upon the person you are speaking to subsequently ran into the ground) a series of RPGs set in one of the megaman universes. It was time/turn based but a huge part of the battling revolved around fast reactions in real time battle. The GBA eventually saw 6 entries (many of which doing the two slightly different versions) and two spinoffs but the fifth entry in the GBA series also got a nice DS port that was also one of the first nice RPGs on the DS (the first year or two was very dry) and made use of the touchscreen in a less than gimmicky way. Now with that many entries in the series most of which were not changed that much (indeed a handful of those that use review scores would later say great game but take one point for every entry you have played before) means this choice could well see a few eyebrows raised as megaman battle network burnout is probably worse than final fantasy clone burnout. After this though the DS entries in the battle network universe went in a slightly different direction with the MegaMan Star Force games (also quite interesting) but we maintain it is a good RPG on the DS and well worth having played. The GBA side of the series is starting to see some fairly extensive hacks (usually aimed at hard mode) if you go looking as well.
An E3 trailer but several battles and walkthroughs are available.
[/p]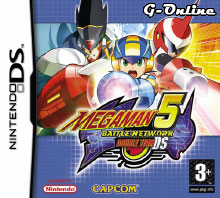 GBAtemp release thread
[/p]
Megaman should be about the platforming or does this spinoff hold up?[/p]
gbagotw should get you other links in this series