Emulate the Planet!
OP
Former Staff
Joined

Jan 3, 2008
Messages

10,578
Trophies

0
Age

46
Location
Website
XP
Country

Galaxy NES
Retro News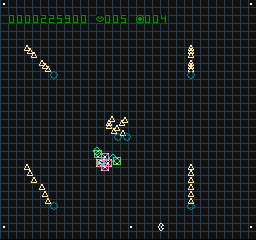 It is nice to see that NES homebrew is still alive well. I find that these projects are great to post news on because the vast majority will run on NesterDS, NESDS and PocketNES. This homebrew is a clone of Geometry Wars, designed during a 4 month period.
QUOTE said:

• A: Shoot Forwards
• B: Shoot Backwards
• Left and right only control horizontal movement, up and down only control vertical movement. (Reposted from below)
• A+B: Enter Turret Mode. Stops your ship so you can fire without moving. Releasing B first make you fly in the direction you're shooting. Releasing A first lets you exit turret mode without moving.
• Select: Use a bomb
• Start: Pause the game.

Download

Source

Discuss