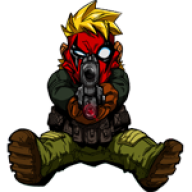 Joined

Dec 23, 2008
Messages

4,979
Trophies

0
Website
XP
Country
While I'm sure I had them before, I cannot recall a time when I had a download error when downloading with Firefox 3.0/3.6/4.0b#.
However, it seems ever since Firefox 4.0 went 'final', I frequently get write errors when saving which causes the download to fail.

At first I thought it was just a shitty download place like Hotfile and some of the other common but not well know download sites, then it happened to Rapidshare/Megaupload and MediaFire as well. As I haven't done much downloading outside of those kinds of places lately, I thought it was just 'those sites', but now it happened to me while downloading VirtualBox.
After doing an update recently (well after the problem started happening) I did a bunch of Windows Update and after rebooting it did a chkdsk and everything came up fine so I'm pretty sure it's not the drive.

Like I said, prior to 4.0 final, I never had a problem (I don't consider one or two failed downloads in a 3 month time period a problem, I DO consider 3~5 a day a problem). When searching for this the majority of results are from 2007~2009, some of them come with suggestions of resetting download options (which didn't help) and others say to delete files and clear cache (neither worked), so now I'm stumped as to what to do.