Yahtzwii
v1.1
Yahtzwii is a dice game for the Wii where you have to roll dice to get different combinations of 6 dice. The game supports four players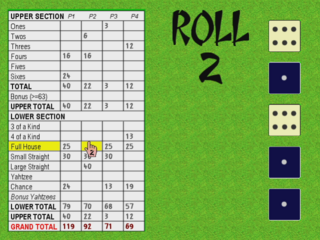 Changelog said:

v1.1 28/01/2009

* Added Scandinavian rules
* Added French language support
* If you accidentally pick up the dice before you are finished selecting the ones you want to keep, you can now press MINUS to go back and select again.
* Highlighting a box on the scorecard will now show you the score you could get by selecting that box.
* Game will now not let you roll again if all dice are selected.
* Bug fix: using Bonus Yahtzees as jokers in the lower section will now work properly.
* Bug fix: game will no longer crash on trying to save if someone has renamed game folder or no SD card is inserted.

Download

More Info

Discuss