Joined

May 5, 2008
Messages

1,345
Trophies

1
Age

111
Website
XP
Country
Well, well, well. Nintendo takes the cake once again. For more information look
here
.
Have you guys noticed that Nintendo has one EVERY poll since the third one? Interesting. Probably won't last, but it's interesting.
We should probably get to the poll. But first, as always, let's recap the rules!
Each week, video game history will be put to the test to see which console or handheld is the greatest. There can only be one!
Vote for your favourite and follow it through to the end as we try to determine GBATemp's favourite console/handheld!
Consoles and handhelds will face off in brackets comprised of their generation. Because there can only be one, in the event of a tie I will cast a tie-breaking vote. Once a winner has been declared for each generation, the console winners and the handheld winners will face off in individual brackets. Once an ultimate console and ultimate handheld have been chosen, they will face off against each other to see who is the greatest!
For a concrete example of the brackets, see the image at the bottom of this post.
So what's next? Chronologically, you guys can probably guess what we're dealing with this week. The sixth generation of consoles. This generation we'll see the fall of a once great company, the struggle of another great company, and an oddball entry into this generation's race. This generation needs no introduction. Most of you were alive for this generation.
Let's get to it, shall we?
This Week's Challengers Are:
The Sega Dreamcast
After pissing everyone off during the launch of the Saturn, Sega had some catching up to do. In 1998, Sega launched the Dreamcast to the Japanese public. Because of a graphics chip debacle that led to a shortage, Sega was unable to meet demand initially. Sega took a bit of a PR hit for that, but soon bounced back when the chip shortage stopped. North America's infamous 9/9/99 launch went spectacularly well. So well that most analysts at the time touted that Sega would probably be on top this time around due to their head start (let that be a note to all of you that video game market prognosticators are full of shit).
Soon though, sales began to drop. In response, Sega launched a number of incentive programs to get people to buy the system. By the end of 2000 they were practically giving them away as long as you signed up for a year of their online service, SegaNet.
While Sega had opted to go with the larger-than-CDs format called GD-ROMS, it was quickly discovered that if the games were backed up, they could be burned onto regular CDs and played on the console without modification. Sega soon launched versions of the system that had an added copy protection, but it may have been too late.
Dreamcast sales continued to drop, especially in 2000 as people were hotly anticipating the PlayStation 2. By early 2001, due to anticipation of the Nintendo's Gamecube and Microsoft's Xbox, sales dropped even more, and on January 31st, 2001, Sega announced that it would be stopping production of the Sega Dreamcast. While the system had a minor continued success in Europe, the console faded to cult status.
For a while the Dreamcast was a favourite for homebrew programmers, but since interest has waned. Interestingly enough, games are still being made for the system.
One was released just last year
.
The Dreamcast had some fantastic games on it.
Shenmue, Jet Grind Radio, Sonic Adventure, Skies of Arcadia, House of the Dead 2
(and by extension, my favourite game,
Typing of the Dead
), ... I could go on. Their online gameplay, while not wholly original, was robust and revolutionary. All in all, if you own(ed) a Dreamcast like I do, you'd be stunned as to why the thing wasn't a success. The controller sucked though. True story.
The Dreamcast sold an estimated 10.6 million units, and it's best-selling game was, of course, Sonic Adventure.
The Sony PlayStation 2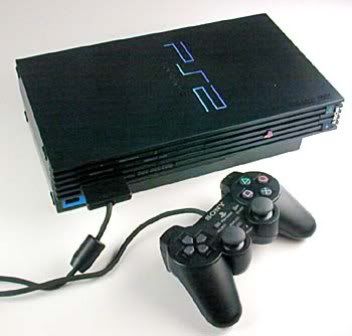 The original PlayStation was hugely successful. Hell, it even managed to outsell the Nintendo 64 worldwide. But how do you top that?
With the PlayStation 2, Sony decided to focus on the new medium for movies and turn it into a 'multimedia system', and to that end made it so that your PS2 could double as a DVD player. This proved to be a boon to the console, and even led to people initially claiming that the best selling piece of software for the PS2 was The Matrix DVD. I would verify this rumour, but I can't find confirmation of it. Google searches just turn up info on
Enter the Matrix
.
The PlayStation 2 was released in 2000 to most territories for $299US. Due to manufacturer delays PS2s were initially very difficult to come by. Consoles started springing up on eBay for 3X their worth. Around this time the trend of duplicitously selling "NEW PLAYSTATION 2 box" on eBay for hundreds of dollars began; something that to this day is still a problem.
The PS2 had a cakewalk for most of it's life-cycle. With the Dreamcast effectively out of the way, the PS2 managed to outsell the Xbox and Gamecube during their shared lifespans, and went on to be the best selling console of all time. After the launch of the Wii, the PS2 was rebranded as a cheap Wii competitor, and focussed on selling games in the Guitar Hero series, quiz show games like Buzz, and the like.
The PlayStation 2 sold an estimated 154 million units worldwide and it's best-selling game was Grand Theft Auto: San Andreas.
The Nintendo Gamecube
The Nintendo Gamecube was released in 2001 and for the first time was not accompanied by their mascot, Mario. Instead
Luigi's Mansion
made it's debut as a rather poorly received tech demo of what the Gamecube was capable of.
One of the major complaints about the Nintendo 64 cost Nintendo the Final Fantasy series and, arguably, the lead in the fifth generation. To fix that error, Nintendo opted to abandon their cartridge based medium (for consoles anyway) and instead chose the mini-DVD for their newest console. While Nintendo chose the mini-DVD to combat piracy (as at the time blank mini-DVDs were hard to find until Sony released a camcorder that used them) their choice in medium once again shot them in the foot. The maximum amount of data the DVDs could hold was 1.8GB, compared to the 4+GB that regular DVDs could store. Because third parties thrived on the ability to port their games to different consoles, this led to some rather poor quality ports to the system that had lower resolution textures, or poorer quality audio than the Xbox or PS2 versions of the same game.
The Gamecube featured a handle for no detectable reason (I remember someone in high school saying it made it easier to smash one against the ground), and it had a controller that was once described by EGM as what it would look like if a robot threw up on a boomerang.
The Gamecube is noted for trying to shove connectivity down our throats, but was deemed unruly due to the total cost (a Gamecube, x number of GBAs, x number of cables). Despite that, there are an inordinate number of games that support that feature.
It didn't sell as well as the Xbox or the PS2, but the Gamcube still managed to sell an estimated 22 milliion units worldwide, and it's best-selling game was Super Smash Bros. Melee.
The Microsoft Xbox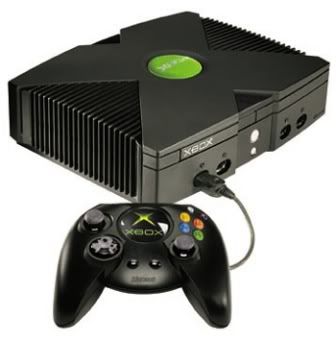 Initially named the 'Direct X Box', for obvious reasons, Microsoft surprised a few people with the announcement of their beefy console. The development of the console was in hopes to create competition for the newly announced PS2 that was allegedly stealing a number of Windows developers away from them.
After a few delays, the system was launched first in North America in 2001, and later in Japan and Europe in 2002. In a surprising move, Microsoft roped the previously Mac-only developer, Bungie, into making a launch title for the system. Initially panned for it's repetitive levels and lacklustre gameplay,
Halo: Combat Evolved
eventually became a system seller for the Xbox.
Building on the relative success of Sega's online infrastructure, SegaNet, Microsoft eventually launched Xbox LIVE, a subscription-based online service that would allow for online multiplayer. The most notable game to use this feature was, of course,
Halo 2
.
Due to the system's similarity to PCs at the time, the Xbox was very easily modified, and after doing so would play backups, as well as a myrid of homebrew applications and emulators. The Xbox could be used as a very versatile all-in-one media centre, whose only drawback was it's inability to display video in higher HD resolutions (as it pre-dated the so-called 'HD boom').
The Xbox enjoyed steady sales throughout it's lifespan amid slander about the size of it's first controller, and the quality of it's games. Despite all this it managed to round out the generation by selling more than the Gamecube. The Xbox sold an estimated 24 million units, and it's best selling game was, no surprises here,
Halo: Combat Evolved
.
Housekeeping!!!
So there you have it! Possibly one of the greatest generations of consoles. It was definitely the last one to have developers working on games for all three systems at the same time.
Don't forget to share an anecdote or two about your favourite console before you vote. And yeah, don'r forget to vote! I'll be reminding you to do so for the rest of the week.
Here's how the brackets currently stand:
Who will win? It could be you!*
*note: it can't be you.
The poll will be closed on March 20th, so vote while you can!
EDIT: The poll is now closed! I'll be posting the results soon.