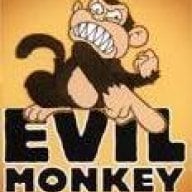 Joined

Nov 1, 2007
Messages

1,770
Trophies

0
Location
XP
Country
Ok, rare for me to need to ask for help but that's exactly what I need to do me == fail

*EDIT* - snes9x gx 008 won't allow loading on the .cht files
confirmed
. They do work in ver 7, and tantric has fixed the issue for the next release.
I aint so dumb after all

I'll re-edit my posts when time allows to add aguide of sorts, links etc and how to make your own on pc or sumin so this wont be a useless asking for help post
So I got the snes emu and read everything related and today decided to apply some
cheats
to some roms and mess about with it a bit.
They wouldn't work.
I double checked all read me and guides etc etc nothing worked, however I did find a lot of other posts where no one got them working.
I can't except they don't work, so followed the placements and naming and tried lots of variations. Too many to remember them all.
I tried naming the .cht to exactly the same as rom and placing in snes9x/
cheats
snes9x/
CHEATS
snes9x/ROMS
snes9x....
saves etc etc etc etc.
I tried writing a txt doc with the AR codes something like this
QUOTE said:

Exact Game Name
Cheat Description:
7E05F506

Another Cheat:
7E02F133

etc etc
This was from a site online as an example, I just tried it, didn't work.
So I thought, typo maybe, or formating hmmm.
I started up snes9x on the pc and made a .cht on that, examined it and noticed it was totally different, so thought I'll try one of these, and then copied it to the SD, and placed in every location imaginable, ran the rom and nothing.
I've searched some more, but all I can really find on this are posts of people saying they can't get it to work.
So does it work and I'm missing something maybe obvious, or does it not work?
If anyone can help it will be appreciated and I will edit this first post for anyone else having trouble.
Cheers in advance
/me crosses fingers