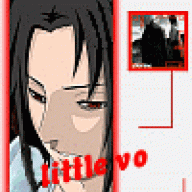 Joined

Sep 24, 2010
Messages

195
Trophies

0
Location
Website
XP
Country
Okay for those who can do ROM hacking
and Translate rom games thenn i need your help please!
Im willing to try my best to learn it but as im a student so i got school..
But next week i have a long weekend so,,
So the point of ths topic is that i want to learn how to translate and hack roms.
You may ask''why?''
Answer: I want to help people and myself to translate games to english or hack roms
You may say''Are you sure?''
Answer:Im 100% sure!I want to do this!
You may say''It takes aproximatly a long time..''
Answer: Im aware of that but i still insist!
You may say''Who will teach you?''
Answer:I will allow anyone with high skills in translating and rom hacking teach me!


You may say''Will you understand and keep up?''
Answer: As before i will try my best to keep up and i will try my hardest to understand the equipment!

So for the people who also want to hack and translate rom you guys can join along my side to go under the Hackers
to teach us as them are our Masters!

(Im am complety new at this so yeah..)
For those who want to Join me in learning i will allow probaly 5 people including me to learn due to heaps of pressure on
the ''Master'' Hacking teaching..

I will be putting a waiting list if one of our team members drop outta the team and the first person on the waiting team
will replace the dropped team person.(4 people)
Team Noob Hackers
1.LittleVo
2.LegendAssassin
3.FireGrey
4.Gifi4
5.Ssx9
Team Waiting
1.AmadoFurtato
2.metalmouth647
3.undercoverjamil
4.Ritsuki
For those who wanna learn we must find a ''Master'' hacker to teach us and If you want to learn
the First 4 People to PM is on the team or you can answer the Poll questions right

So cheers to everyone!!

The team learning will be known as ''Team Noob Hackers''.
The
MOST
important part is that we first need to find a
''MASTER HACKER''
to be our teacher.

So to all the Hackers out there I am begging you to lend your knowleadge to us and be our Teacher!.
Thank you

I will be updating this post daily or weekly when people join the team
I hope you hackers will help us!




Teachers
1.Black_Knight_666
2.