Another day another journey… As living on planet earth and its surrounding solar system seemed boring Sqrxz decided to check out another location in the universe. Just in case and to be extra careful he took a pocketful of emeralds with him to keep him in ready cash, but after starting his exciting journey he realised all his emeralds are suddenly missing! Retracing his steps Sqrxz notices mysterious creatures popping up all over the place to hinder him in his search… Oh what troublesome days… Help poor Sqrxz get back all his emeralds!
---------------------​
The game is released in 3dsx and Cia formats. The code is closed source and copyright of Retroguru (
www.retroguru.com
)
Release link (final) :
http://www.retroguru.com/sqrxz2/sqrxz2-v.latest-nintendo3ds.zip
Check the Sqrz2 page
http://www.sqrxz.de/sqrxz-2
for other platforms ports of this game.
Sqrxz2 Trailer
Releases
Small bug fixes (30 october 2016)
First release - 3dsx and CIA (21 october 2016)
Screenshots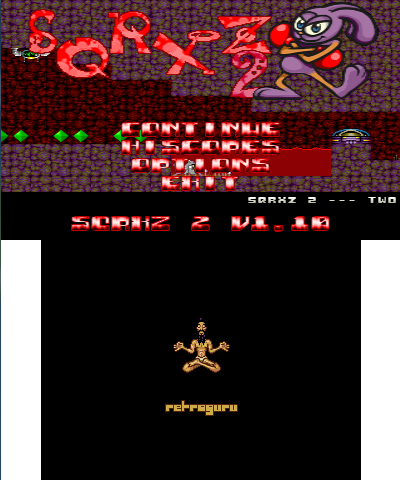 Installation
In the zip there are the Cia file and a folder with the 3dsx and the smdh files inside, to be used with a homebrew launcher. All the resources are included in the executable using romfs.
The game creates a sqrxz2 subfolder inside the 3ds folder if doesn't exist.