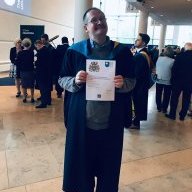 Philosolosophising
OP
Former Staff
KYT Info said:

Know Your Temps Info

For those of you that are new to the game, here are the rules:

- One user will be put on the questioning stand every two days (or so)

- Once that user's session of questioning starts, anybody can ask that user a reasonable amount of questions they want via posting on the thread

- These questions can be about anything. Personal life, GBAtemp/internet life, pet peeves, musical tastes, "what if" situations... ANYTHING!

- Please try to post all your questions at once, in one solid post

- Upon receiving questions, the user that is in the spotlight can answer them at anytime, as long as it's before their time is up

This quirky little activity will help us get to know our fellow 'tempers even better in an exciting, chaotic manner! Those who have an upcoming KYT session will be notified about their upcoming session via PM.
[title
revious sessions!]
Daois
NDStemp
dinofan01
Curley5959
Toni Plutonij
superdude
Minox_IX
Lubbo
mcjones92
luke_c
Hop2089
Banger
asdf
Blebleman
Thordrian
Neschn
Sonicslasher
Law
silent sniper
Vidboy10
Vulpes Abnocto
OldBoy
Lordpoketehpenguin
Brian117
Nin10doFan
Gullwing
Sterl500
Rock Raiyu
Joe88
shinkukage09
mercluke
Sharpz
Masterchamber
El-ahrairah
Eternal Myst
In the spotlight this session is :
.Radiant
*** Apologies to all involved in this season, I've been unexpectedly busy the last few weeks so the sessions have slipped a little. I've got alot on during this week as well but after that I'm back to my usual bugger all to do so the KYT sessions will be back on track.