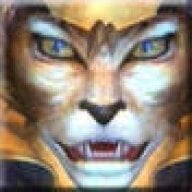 Joined

Dec 24, 2006
Messages

450
Trophies

0
Location
Website
XP
Country
Well, I got an iPod Nano 3G 8gb for little over a month now and when I tried to start it last night it didnt want to, I thought maybe it was still on lock, so I checked, it wasn't so I locked & unlocked and hit the play button again, nothing happens. I then try to connect it to my pc (maybe the battery was empty?) but it didn't switch on, and my PC didn't recognize the iPod either.

So I have no clue what happened =/ I haven't done anything special with the ipod, it just stopped working without any reason (didn't drop it, didn't modify firmware, ...).

Has anyone gotten any similar experiences with his/her ipod? Because, I mean, it's €200 and it has only been one month and it's broken already... it's the first time I bought from Apple so this isn't exactly good for getting other apple stuff in the future...

Is there any way to fix it myself? Or should I just go bring it back to the store where I bought it? If so, would they just give me a new iPod or send it to repair? I don't wanna lose all my songs >.< I use Floola so I'll need to upload all the songs I've had on it already >.<

Any suggestions?