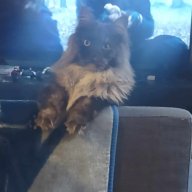 Joined

Dec 30, 2013
Messages

6,293
Trophies

2
Age

29
Location
XP
Country
Edens Zero is very awesome!
It's made by the mangaka who made Fairy Tail, but no, it's far from a Fairy Tail in space, far from it!
It's a mix between space sci-fi and fantasy. There are androids, bots, mechanical dragoons, divinities, etc..
There's even a creature called Chronophage that devoures a planet's time. It makes it go back in time, but it doesn't affect the time anywhere else.
So if a planet got 50 years of its time devoured, then a 70 years old man that used to live there 50 years ago will have an "alternate" person created on the planet, a 20 years old alternate person. And then, the life of everyone who were on the planet 50 years ago continues, like if it was a new timeline inside the universe, which hasn't changed anywhere else.
Amazing right?
If you were to ask me, I'd say it's closer to One Piece than Fairy Tail. OP's story structure is about Sagas and Arcs. In a saga, there's a main objective that is followed all the long of the saga, while each arc is set up on a different island. Well it's about the same in Edens Zero. In each Saga, they explore a cosmos with a main objective in mind, while each arc is set up on a different planet.
There's one season of 25 episodes available on netflix, covering 68 chapters of the manga, over a total of over 170 chapters released and ongoing.
Like some anime/manga i watched/read so far, a timeskip occured after a tragic event. It occured very recently in the manga, like, less than 5 chapters ago,,,
I'm really looking forward this as they begin their third saga