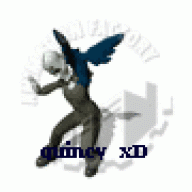 Joined

Nov 13, 2008
Messages

1,494
Trophies

0
Age

26
Location
Website
XP
Country
MODS Please Sticky this thread,as it is the only unbricking guide on here!
Want to publish this thread/tutorial?Ask me!
This tutorial is under Copyright ©
In this tutorial i will explain how to unbrick your Wii
NEEDED:
1.A Gamecube pad
2.A Wii with Firmware 3.2E/U/J,Starfall installed(The 2 required patches are the Rescue menu and the Skip DIagnostic Check AND The Twilight Hack installed!
3.An SDCard with This File(http://www.megaupload.com/?d=9IH00T3O) In the ROOT
4.Wiimote&Nunchuck
5.The Legend of Zelda:Twilight Princess Gamedisc
SIMPLYFIED INSTRUCTIONS
1.Download
http://www.megaupload.com/?d=9IH00T3O
and put the boot.dol in the root of your SD card
2.Insert your Zelda Gamedisc In your Wii or make sure that it is allready inserted
2.5( Insert your SD card in your Wii
3.turn on your Wii while pressing the Y button on your GC pad
4.It should say 3.2(E/U/J) for a little while in the right-bottom of your screen and then boot Zelda.
5.Continue like if you would play zelda normally.
6.Load the 'Twilight Hack' savefule and talk to the man or do some steps backward.
7.You will get a whole load of text in your screen and suddenly it boots the WAD manager
8.Press A 2 Times
9.Search for your WAD that bricked your Wii
10.Press Minus on your Wiimote
11.Press A
12.Wait untill it says press any button to continue
13.Press any button on your Wiimote
14.press HOME on your Wiimote
____________________________________________________
If you did it properly,your wii should boot like normal again!
Tell us if it worked!
(As soon as you update or downgrade your wii,you will lose Starfall!Starfall can only be used on a 3.2 Wii! Thanks EmperorofCanada!)
Tutorial made by Quincy
Filmed by Quincy
Bricking wad file requested by Quincy and gotten from WiiCrazy(not mallicious)
Tutorial sugested by DjDynamite
EDIT:
DjDynamite requested that i did a video with the Back menu patch installed:Here it is!
NOTE:You can suggest tutorials