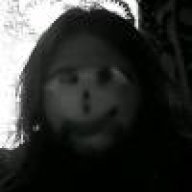 Joined

May 21, 2011
Messages

162
Trophies

0
XP
Country
Hey All -
i appear to have forgotten my manners on the way to the webnet. Introductions, i suck at 'em, either i forget to introduce two people i know (only to leave a couple of strangers in the same room together and let them figure it out) or i miss mine. its a lot like when im at a party (on the rare occasion), i show up late, stand around, find no one i know, jump into conversations only to leave the accosted folks confused (sayin', "who the hell was that guy" - "and why was he so knowledgeable" [well, thats what i would hope they wonder, tee hee]), and then leave. well it seems i did the same thing here, and i don't really want to leave, and i don't plan on getting myself kicked out. so i hope you let an anti-socialite like myself hang out at the party, it seems to be coolest/loudest one on the block.

ps- a little about me, if you care. love nintendo, love wii. i consider myself to be a nontraditional wii enthusiast in that hate smash bros., use the classic a lot, EXCEPT for on fps's - i just love that nintendo gave me what i always wanted, a controller you pointed with that has a trigger (if you had asked me ten years ago, "which system in the future will have a dedicated gun-like controller?" i never would have guessed) oh and play alone mostly.
i also like things junk and stuff - stuff>things>junk.