GBAtemp Recommends! Mario Golf: Advance Tour
G.R. Issue #15 (GBA)

Last weeks game seemed to have us talking more than usual, some loved it, some didn't and others have never played it.
Welcome to the Fifthteenth issue of GBAtemp Recommends! - a weekly magazine feature in which we share our favourite Game Boy Advance titles. The games we recommend may be top titles from the GBA library, a homebrew, or they may be sleeper hits that flew by the radar, but one thing's certain, they're all fantastic games that deserve your play time!
GBAtemp Recommends!
Mario Golf: Advance Tour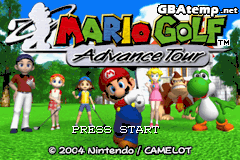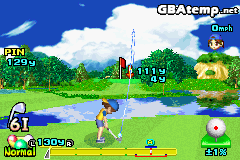 This week we've decided to go with a big release! Mario Golf: Advance Tour is the 4th game in the series following entries on the Nintendo 64, Gameboy Colour & GameCube. It was also the 3rd GBA game from Camelot. Like the GBC game this has a RPG style Story Mode where you start off as a young upstart and you play your way up the ranks until you hit the big time.

Along the way you'll be able to play mini games that help you level up and you can also talk to other players who will offer advice to how to up your game. As well as that you'll be able to take part in many tournaments, each one testing your skills and abilities as you go. Once you have completed each tournament you get to play against the moustachioed plumber himself...Mario!

Outside of the main Story Mode are some very good multiplayer modes. Only got one GBA/DS? Well 2-4 players can simply take turns and have some fun. You can also link 2-4 GBA's up together but sadly you can't link up on a DS.

All in all this was a great looking and very deep golfing game and the RPG style story mode really helped break the gameplay up. Its deep enough for those who have played Golf titles before as well as being easy to get into for those who have never touched the genre.
Game Synopsis said:

GBA instalment in the Mario-themed golf series. Three-dimensional graphics are used for the stages, but you can switch to a 2D map view at any time in order to plan your attacks. Select either Neal or Ella and enter the Marion Club Learning Center in order to become a pro. You raise both yourself and your partner, learning under the counsel of Kid and attempting to one-up your rivals, Helen and Bazu. This mode has an RPG-like feel, with new courses opening up as you progress and members of the club sharing golf knowledge with you when you speak to them. Also features a Quick game mode, multiplayer matches for up to four, save your records, edit cheers and jeers and exchange clubs with your friends. A golf dictionary contains explanations of golf vocabulary for beginners.

#1544 -Mario Golf Advance Tour (USA) (Venom)

#1940 -Mario Golf Advance Tour (Europe) (iND)

Genre:

Golf RPG

Developer:

Camelot Software Planning

Publisher:

Nintendo

Dump Date:

22/06/2004 (USA) 19/03/2005 (Europe)

ROM Size:

128 Mbits

If you enjoyed this weeks edition of GBAtemp Recommends! please leave a comment in the thread. This helps us monitor feedback and ensures we keep posting these magazine articles in the future.

View in G-Online

Game Profile at IGN

Official GBAtemp Recommends! Mini-Page & History

Discuss