Joined

Oct 24, 2002
Messages

11,917
Trophies

4
Age

39
Location
Website
XP
Country

GBAtemp Recommends! Drill Dozer
G.R. Issue #12 (GBA)

Did you have fun with Another World's recommended game last week, Another World? Wait... What? Erm... Nevermind!
Welcome to the twelfth issue of GBATemp Recommends! - a weekly magazine feature in which we share our favourite Game Boy Advance titles. The games we recommend may be top titles from the GBA library, a homebrew, or they may be sleeper hits that flew by the radar, but one thing's certain, they're all fantastic games that deserve your play time!
GBAtemp Recommends!
Drill Dozer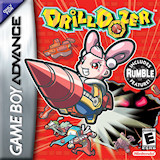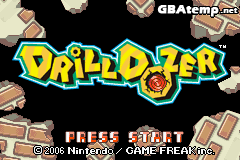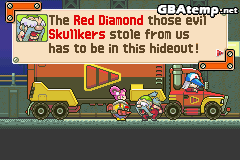 The only game besides the Pokémon games that was created by Game Freak for the Game Boy Advance is 'Drill Dozer', a fun action platformer with a unique game play method. Released late in the Game Boy Advance life cycle, this game was over looked by many and did not receive the attention it really deserves.

As a member of The Red Dozers, you play as Jill, a young girl who pilots a mechanical monster known as the Drill Dozer, and must reclaim the powerful Red Diamond, a gift from your mother, that was stolen by the bastard Skullkers group when they ambushed you and your gang. While the game won't win any awards for it's rather predictable and uninspired plot, it may do so for the method in how you play...

You play through the game in the pilot seat of the Drill Dozer, a crazy mechanical machine that is able to drill straight through walls, switches, objects and enemies. You control the drill bit by using the L+R buttons, and can control in which way the drill motor turns. The R button spins the drill bit forward and the L button spins it backwards. As you progress through the game, you will pick up gears in each stage, that allow you to increase the speed at which the drill spins, allowing you to do more damage and unlock different paths.

The game is primarily a platformer, and you must navigate through the levels with your Drill Dozer, finding the correct route by solving puzzles. There's even an intense boss battle at the end of each stage.

Created by Game Freak, the game oozes charm and style. You may eventually grow a little tired of the Drill Dozing' but fortunately the game is not overly long, and can be completed in a couple of days. Drill Dozer is, however; extremely well polished with colourful, easy-on-the-eye graphics; a great soundtrack and easy to learn but difficult to master controls. The official game pak even supports rumble.

If you haven't already played this game, you really missed out on one of the best GBA action platformers, so give it a drilling and let us know what you think of it!
Game Synopsis said:

The fiendish Skullker gang has attacked your father, the head of the Red Dozer band of thieves, and stolen your precious red diamond. Now it's up to you to hop into your powerful Drill Dozer robot and lead the Red Dozers on a destruction-filled quest to get it back.

Genre:

Action Platformer

Publisher:

Nintendo

Dump Date:

08/02/2006

ROM Size:

64Mbit

If you enjoyed this weeks edition of GBAtemp Recommends! please leave a comment in the thread. This helps us monitor feedback and ensures we keep posting these magazine articles in the future.

View in G-Online

Game Profile at Wikipedia

Official GBAtemp Recommends! Mini-Page & History

Discuss (%nbreplies% comments)