Joined

Nov 21, 2005
Messages

35,960
Trophies

3
Website
XP
Country
GBAtemp's book game club is here despite the pre E3 buzz with the 54th edition.

The traditional what we are about follows
The DS, the GBA and the Wii all feature large libraries of commercial titles, homebrew code, rom hacks and things like leaked betas that in many cases still are still growing. Each edition we will make a selection from one of those (or occasionally something the DS can emulate well) and those that wish can discuss a playthrough of it (made then or in the past) or some aspect of the game they found interesting.
The top flight games of a system will certainly feature although to spare us repeating what every other site has done over the years the selections are not limited to it which has the nice bonus of allowing us to share some of the things that had some very interesting ideas but might have fallen slightly short come release.
Challenges or runs might well be posed (achievements have long been around but they were called challenges and runs and were often more interesting) instead of the main game or in addition to it and occasionally we will do a compare and contrast for a group of related titles.
#54 The Legend of Zelda - Minish Cap (GBA)
Our initial selection in light of the last DS(i) game shown at an E3 was going to be Zelda 4 Swords for the GBA but even though it should be doable in the link supporting versions of the VBA we felt it a bit hard to set up and get appreciated. To this end we thought we would look at the other GBA Zelda title which was also set in the four swords universe. We mentioned the last time we did a Zelda handheld title that they sometimes sit a bit apart from the mainline/console series with the GB and GBC titles being held in high regard mainly as they tended not to be watered down ports or cheap cash ins like a lot of other cross platform titles and it held for this go around as well. This was the only original Zelda game on the GBA (the others were ports of SNES and NES titles) and in many ways history has overlooked it somewhat which is a pity so we are here now. Admittedly there is a reason history overlooked it somewhat as some of the mechanics (kinstones) were a tad clunky and in some ways the story had a definite sidestory feel to it but the dual worlds system returned with this time it being the miniature and full size world both active at the same time and being used to solve puzzles (some of which were a cut above the usual Zelda puzzles) that framed it and the game itself. To this end if you have not played it then you are missing out on one of the more interesting entries in recent times to the Zelda franchise. It also had the unusual distinction of being launched first (pre Christmas) in Europe and shortly after the new year in North America.
Japanese trailer (a variety of lets play and similar videos are available).
[/p]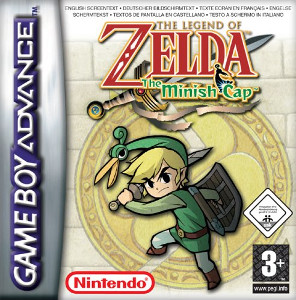 GBAtemp release thread
[/p]
A somewhat overlooked classic or a departure from the greatness that was the GB and GBC series?[/p]
gbagotw should get you other links in this series