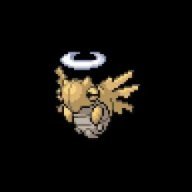 Joined

Nov 18, 2008
Messages

28
Trophies

0
Location
XP
Country
I need your assistance in purchasing a great DS game with my 30$ gift card. It can either be a Wifi or non-Wifi game. Let me start off by stating that I am very picky when it comes to games for the DS. Since the DS tends to all audiences and I am but one audience member, I believe there are a lot of games that I'm just not interested in. I am willing to put in any extra money if the game's price exceeds 30$.

Please read before posting your reply:
-I am not a fan of Pokemon or Pokemon-related games, this includes most RPG's (Sonic Chronicles: The Dark Brotherhood).
-I own Final Fantasy 3 and have yet to beat it and decided that before I get FF4, I must finish 3.
-I currently own 18 games. Some of my favorites are: Electroplankton, Gunpey, Mario vs Donkey Kong 2, Tetris DS, Mario Kart, Space Invaders Extreme, New Super Mario Bros, Trauma Center, Warioware Touched, and Sonic Rush.
-I have both Brain Age games....boring.
-I will not buy Kirby Superstar Ultra since I own the original for SNES and I heard it's better.
-I have Geometry Wars for Wii and can play the basic game on my DS, I don't want the full version.
-I'm not a youngin' so "kiddie" games probably wouldn't appeal to me (but there have been exceptions (Disney Meteos)).

I know there are tons of great games for the DS that I have yet to discover. If you can provide me with your most zenith suggestion, I will research as so and get back to you when I have made my decision. Thank you for your time and your recommendations.