Product Information:
Release Date (NA): June 23, 2022
Publisher:

SEGA

Developer: Heacanon
Also For: Nintendo Switch, PlayStation 4, Xbox Series X|S
Game Features:
Taxman finally gets his shot at recreating Sonic 3 & Knuckles. It's the exciting release every Sonic fan has been waiting for, right?
My very first memory is of Sonic the Hedgehog; specifically, a re-run of the 1996 OVA film. Children often have a favorite something that they get excited for, whether it's princesses, dinosaurs, animals--whatever. Mine was, without a doubt, Sonic. For my fourth birthday, my mom gave me a gift that would be a turning point, something that would jumpstart a love of video games, and of writing about them. Unsurprisingly, that gift was a copy of Sonic the Hedgehog. 
From then on, I have followed this franchise through its highs and lows--particularly the many, many lows. So, when Sonic Origins was announced, my first reaction was of complete and utter joy, which was quickly replaced by apprehension and unease. Christian Whitehead, Stealth, and the many talented Sonic fans at Headcanon have proven their ability to craft the definitive versions of Sonic games in the past, but would SEGA manage to get in the way of such and mess it up? If you are a fan, you should know by now that the answer is a resounding "yes," but what exactly went wrong here? Sonic Origins manages to do right by the franchise's tradition of quality, because it is a game that gets so much right, while somehow managing to screw up so much else.
For those unaware, this isn't "just" a collection of SEGA Genesis ROMs, nor is it a remaster. Sonic Origins is a compilation, yes, but of what is known colloquially as the Taxman Sonic remakes. Originally released on mobile, and in the case of some of them, only ever on mobile, these were from-the-ground-up remakes of the classic Sonic games in Christian Whitehead's Retro Engine, which aims to try to perfectly recreate these games in widescreen, with better visuals and other upgrades. These are the unequivocal definitive versions of Sonic 1, 2, and CD, now finally released on consoles and Steam. That alone makes Sonic Origins worth it. This is also the first time in over a decade that we've seen a release of Sonic 3 in any form, taking what is considered to be the best Sonic game ever, and remaking it in the same way. At least, that was what everyone expected. 
And, to a degree, that is what we got, just with a few snags. Sonic 3 & Knuckles looks and feels better than ever before, and upon first glance, is what every Sonic nerd had been praying for. The bulk of this review will focus on that game, because outside of two very small annoyances--no Knuckles in Sonic CD and a wonky dropdash move shoehorned into the others--these versions of Sonic 1, Sonic 2, and Sonic CD are the same as what we had before, glitches included. It's confusing as to why these bugs weren't ironed out, especially given they've had a decade to do so, but at the end of the day, Sonic 3 & Knuckles is really the star of the show here. 
Those aforementioned Sonic nerds have played Sonic 3 an unholy amount of times, whether it's through Sonic 3 AIR or Sonic 3 Complete, on original hardware, with ROMhacks, via the Sonic Mega Collection, or any of the zillion ways the game was re-released in the early 2000s. I know this, because this is exactly how I've experienced Sonic 3 throughout those 21 years since I first originally played it. If I need to test a new TV, or input lag on my capture card, or a controller, or if I just need a comfort game to replay every few months, I always grab Sonic 3. Without fail. So for these weirdo obsessive fans, any sort of difference from that well trodden original, even one as minor as the placement of a rock, or a few frames in a cutscene, would be nothing short of insanity. 
Unfortunately, Sonic Origins fails to fully recreate the beloved classic. Don't get me wrong--you can complete the game fully, and there are no "game breaking" bugs that I encountered; I have plenty of praise for Headcanon's work on this, but all those good moments are slightly soured by newly introduced glitches and oversights. Throughout my first playthrough, there were things that threw me; the first problem was in Angel Island Zone Act 2, where I noticed that Sonic was moving way faster than I remembered, but I assumed I was crazy, living in some Sonic 3 Berenstain universe. Then the disappearing and reappearing platforms at the very end of the Act were erratic. I've never had an issue jumping on them, but this time, I fumbled around, barely able to get the timing right. That threw me off majorly, but again, I chalked it up to me being weird, rather than the game. Same went for the tops in Marble Garden, where my colleague who was watching--and had never played Sonic 3--was asking why their physics seemed all screwed up.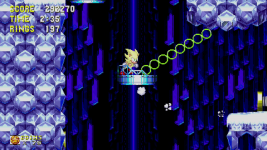 Where all the oddities finally resulted in a lightbulb moment was in Carnival Night Zone, during the Act 1 boss. The one where you have the top that bounces around and destroys the platform while you need to make it crash into the boss. After barely scrambling to get two hits in, I realized the top was moving differently, while the boss itself was caught in the top part of the screen--to the point where I was struggling to kill it before it drilled through all the blocks and made the fight impossible. It's beatable, at least, but it's such a noticeable mistake, and one that genuinely messes with the gameplay so badly that I'm shocked wasn't fixed prior to release. These weird speed-up bugs continued to irk me until the end--the missiles in Doomsday Zone are far more erratic now, sometimes you move so fast you'll clip through things instead of hitting them, monitors won't pop up from the correct signpost placement at the end of a level, and if you're (un)lucky enough to go fast enough you might run offscreen and get "crushed" by nothing. 
Normally, I'd say I hope for issues like these to be patched out by the developers shortly after launch, but after Stealth's official confirmation that SEGA hasn't green-lit a bugfixing patch as of the time of writing, these problems might be permanent. There's so much wrong that it makes it incredibly hard to recommend Sonic Origins, while still loving it so much. Especially at the price that SEGA is commanding for this: a console/PC release of high quality ports we've had for at least 10 years on mobile and one new-old game, for $40. Let alone the bizarre DLC cash grab that makes absolutely no sense, because who is buying this 16:9 widescreen collection so that they can spend extra money on 4:3 borders? Locking missions behind a paywall is equally bonkers, and fans have every right to be disgusted by that fact alone, when a decade ago it would have been included for free. Bethesda would be proud, at least.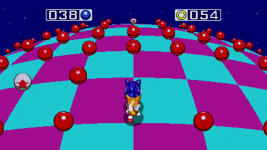 Those of you that might prefer using Origins as their zillionth version of a ROM collection to play the true originals via the game's "Classic" mode will also be confused to learn that they are not that, and are instead the Taxman versions, just forced to run in 4:3. There is zero reason to want this in any capacity. There's also a sound test mode that allows you to listen to each of the four game's soundtracks, and it even has Sonic CD's "You Can Do Anything" with its vocals restored! Surely that's something to be excited for, right? Well, yes, but no. See, you might not notice while playing on a TV, but once you plug in headphones, you'll instantly notice that the whole collection's sound is messed up. The mixing is all over the place, with sound effects way louder than the BGM, and the music itself weirdly muffled. I well and truly believed my headphones were broken until I tried two more pairs, then booted up Sonic 3 AIR to test them, only to realize the culprit was Origins all along. I will say that I didn't notice a single problem with the sound until I plugged in headphones, so your mileage may vary. 
New to this collection, besides Sonic 3 & Knuckles, is the mission mode. These are really truly fun challenges set in each game, requiring you to make the most of your skills in each of the four respective titles. This was a highlight and I find them to be a cute addition. There's a decent amount of them, too, which felt worthwhile, at least, if some weren't locked behind a DLC paywall, proving that this game can't do something right without shooting itself in the foot.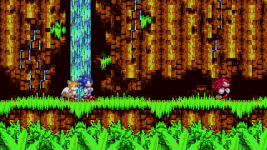 I realize I'm being overwhelmingly negative here, but that's because I have a pedantic passion for this franchise, especially its older entries, to the point of caring immensely about glitches and problems that only nerds and speedrunners would care about. People playing these games for the first time will likely be overjoyed by the modernizations, and for the casual nostalgia-bait, this is a pretty solid package. But at the end of the day, shouldn't the fans who love the franchise and these games so very much be the target audience--the ones that should be the happiest about this release, and not the most upset? After completing Sonic Origins the first time, I was happy with it, in fact, I would say I had a great time replaying my favorite games of all time. But the more I thought about it, really critically observed the things I saw in Sonic 3 & Knuckles, and put that up against all the other ridiculous things SEGA has done in the past, that I felt more and more annoyed by the flaws. And yet, if those problems were fixed, and all it would take is a patch or two, we'd have what we've been waiting so long for: a definitive, official, Sonic 3 re-release. After all, this is the same team that made all the other wonderful remakes, and Sonic Mania, so we know the talent lurking just behind those glitches. 
Once again, SEGA is outdone by fans. I'm happy with Sonic Origins, but only in that way a prisoner would be happy to receive their scheduled meal for the day. It should be par for the course that they manage to botch such a simple concept of repackaging old games and adding one new one in, but I'm still shocked. Sonic 3 AIR remains the definitive way of playing Sonic 3, at least for now, but at the same time, my lizard brain is delighted by completing my favorite games all over again to get those shiny achievements on my digital profile. It's also the only way that console players are able to legitimately enjoy these games like this, and even PC players have to go to the efforts of extracting mobile game assets and using delisted Steam game files, assuming you bought them years and years ago. SEGA once more holds its fans captive, giving them the barest of scraps to keep them happy, and not a full and complete experience that they deserve. 
Verdict
What We Liked ...
Sonic 1 and 2 finally get a release on consoles and PC in their best form
Sonic controls superbly in Sonic 3
The dropdash added for S3&K is genius
Sonic 3 in the Retro Engine is beautiful
All the games are amazing to see in 16:9 widescreen
What We Didn't Like ...
Ridiculous DLC
Sonic 3 in the Retro Engine is a beautiful mess
Generally shoddy music quality/the prototype OST remixes are just bad
Knuckles got banned from being in Sonic CD, I guess
7
Gameplay
As messed up as Sonic 3 is, all the other games are great. Even Sonic 3 isn't beyond hope, and still feels fabulous to play, when it's not falling apart.
5
Presentation
How do you manage to mess up the sound files for existing games, across all platforms, SEGA? Add to that the atrocious remixes for the MJ music, and the blurry default antialiasing and you have a bad mix of failure on every front. The new animations bring me so much happiness, at least.
9
Lasting Appeal
There's plenty of replayability here; you have all four games and the ability to play them as Knuckles or Tails, too. The mission mode is pretty great, too. Whether or not that deserves a full $40, you have a lot to sink your teeth into at least.
Overall
With the decompilations and Sonic 3: AIR a lot of effort to get working, Sonic Origins is the most accessible way to play these classic games. However, even if you bought the Android ports and owned the ancient version of Sonic 3 on Steam, it'd still be cheaper than buying this collection. I want to love it, because it should be perfect, but winds up being far from it.