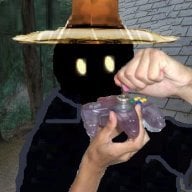 Wii Theme Team Founder
OP
Member
Joined

Sep 19, 2008
Messages

1,330
Trophies

0
Location
XP
Country
THIS THREAD MAY NOT BE "NEWS" TO YOU BUT IT COVERS THE FREQUESNT QUESTIONS REGARDING THE USE OF WADDER ON WINDOWS VISTA!
A few people have PMd me on youtube and ask: "why cant we use wadder on windows vista?"
WELL TRUTH IS YOU CAN! But there is a little work to achieve the goal on Vista...You can use wadder 1.2 or higher on vista
but it requires you to boot into what is known as "windows safe mode"
(A maintenance boot for windows)
there are 2 ways to boot to safe mode...

First way:
Simply reset your PC and continuously tap the F8 key while your PC boots up...This envokes the "boot menu" on MOST PC's...allowing you to choose SAFEMODE from the list of boot options....After you have booted in SAFEMODE you can use Wadder with NO ERRORS EVEN ON VISTA!
Second way (ONLY IF TAPPING f8 DURING BOOT DOES NOT WORK FOR YOU!):
Click the START tab..... All programs......Accessories tab......RUN tab....Wait for the run command window to pop up....In the text box type this EXACTLY
msconfig
then hit enter....Next a window called SYSTEM CONFIGURATION will appear...At the top click the tab called BOOT....Next at the middle of this window you will see "boot options" and a box next to the word SAFEMODE....Tick this safemode box and then click APPLY....OK....RESET YOUR PC AND IT WILL BOOT INTO SAFEMODE BY FORCE THIS WAY! (to turn the safemode boot off simply repeat the steps and just UNCHECK the "safemode box" within your syst config window...After you have booted in SAFEMODE you can use Wadder with NO ERRORS EVEN ON VISTA!
So while its a rather unconventional method it will be a end of means

for vista errors with wadder until Icefire on www.wadder.net can make a nice vista build you can always use 1.2 with the banner support in safemode.....
(maybe someone here could make a DOS BATCH COMMAND that dictates when wadder.exe is ran that vista is running with the SAME SPECS as safemode? like some games will do if your syst requirements are not to par...often the option to play the game in safemode is presented..