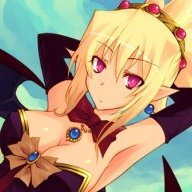 †GBAtemp Official Princess Of Roses†
OP
Member
Joined

Jul 12, 2009
Messages

544
Trophies

0
Age

30
Location
Website
XP
Country
Ok i was Playing Hatsune Miku Prject Diva Today and while i was litsening to the Music and Pressing the X Button and O button evreytime Sudenly my right speaker staret to Crackle but you could still hear it Does this mean i Broke my Speaker i heard there was a Trick to Fixing it im not sure if its True.
EDIT: im not sure if this is Real....OK wanna hear a trick.... give your psp a kiss of life but suck.... hahahahahaha... trust me on this...
Pucker your lips over the speaker hole... then suck real hard... you will hear a crackle or pop... now try it... it may take some time but it normally works... I too thougt my speaker was blown and saw this little trick somewhere and it worked a treat... have to do it once in a blue moon... also if you don't have the auto volume limiter on you will pop your speakers more often.
Hope this helps.
Copy pasted from here:
http://www.psp-forum.com/showthread.php?p=147215