This is a long post!
First, the now. My N5 won't open. Yay!

Here's how it happened.
I downloaded a Yu-Gu-Oh 2010 Reverse of Arcadia rom. It was "patched," or so it said on the title when i downloaded it torrentifically. I placed it in the games folder. Nothing suspicious.
Until I open it, and asked to create a .sav file. Of course, i created one. Normally, it will only take a few seconds. As in few. But this time, the loading bar doesn't move.

I think i tried to restart the DS. As in power-off-power-on type of reset.
From here on, the memory is a bit foggy.
After restarting, I first notice the heading of games.... 4 Games. Now my SD card was 1 GB. Of course, i will put as much games as i can. And now, the games have deleted themselves. So I disconnected the micro SD from the card itself, and opened it with the computer.
On the computer, there were really only 4 games. The SAVs were still there, but the NDS files disappeared. And amidst these were: a folder and a file, both with special characters. I can't open them, can't delete them.
I open it again with the DS. Now, no more games!!! YAY!

Now, when the N5 is opened with:
DS
1. When opening the N5, after the word "Loading" disappeared, it just freezes into a black abyss.
2. N5 can't be opened.
3. Without N5, the DS functions normally.
PC
Here's what it looks like in the games folder:
The details of the files:
Wonder how to read that. =P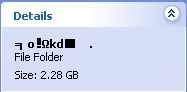 How can a 1GB microSD contain a 2.28GB file?!

To be honest i don't know what the

is there for. xD