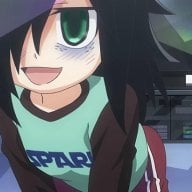 Dirty Weeb ( ͡° ͜ʖ ͡°)
OP
Member
Joined

Jun 22, 2007
Messages

4,548
Trophies

2
Location
Website
XP
Country
This means no more Prometheus and no way to play Monster Hunter Portable 3rd...
What else will we do?

a shitty day for the
PSP
scene indeed...
What he said on his
blog
:
QUOTE said:

Really sorry, all in support of my players!

Current developments far beyond my imagination. My own personal safety is completely not be guaranteed. I've already started rumors around arrested. To this end, I will completely break out

PSP

community, let Prometheus system will disappear forever in the history of the corner of the bar. As for the monster hunter hack, you can go to seek foreigners, they should be able to break in a week or several weeks.

Major Chinese group, ask you to destroy all of your Prometheus -4 distributed firmware.

A9 administrator, delete all my posts and id.

Write here, can not help but sadly cried. Remember the days before the overnight break MGSPW think of you support my crack KHBBS post, think of countless times and games played against the company on a crack programmer day. Everyone for their encouragement will be memories of my life. However, all this really should be over.

Last:

Pirates of the gods Prometheus gave fire to mankind, the Lord of the gods Zeus, enraged. Zeus ordered Prometheus power of God and the Vulcan will nail a cliff in the Caucasus, exposed to wind, frost, rain and snow and sun baked under way to warn him not to indiscriminate human sympathy. Vulcan Hephaestus Prometheus very sympathetic, but he was unable to resist the command of Zeus, in the power of God's supervision and urging, will be firmly nailed Prometheus cliff.

Did not think I have a Promethean start, there are a Promethean end ... ...
Source
no more Prometheus.
No Monster Hunter 3rd Patch
No NOTHING.
The Dark_AleX Fiasco all over again.
makes you wonder the reason why HE quit if he was threatened like this in the same manner....
let's hope another individual takes his place...we need a voice to speak out and rebel against Big Sony