Let's talk about a fantastic "horror" game just in time for Halloween​
My taste in certain games have changed drastically over the course of my life. When I was younger, I played adventure games on the GameCube and Nintendo 64. When I became a teenager, I played nothing but Half Life, Halo, Bioshock, and various other first person shooters. As an adult now, I play a lot more puzzle based games like Shadow of the Colossus, platform games and a whole lot of Tetris. It's funny because me and my brother grew up liking the same games but now, there is not a single similar game we play. Even though I do not play a lot of first person shooters anymore, the ones I did play left a monumental impression on me. Despite me saying I'm not a fan of the FPS genera anymore, FPS games take up 4/10 slots on my favorite games ever list. One of those games being F.E.A.R.
For the four people reading this who have never heard of F.E.A.R. before, it is an action first person shooter and "horror" game released in 2005 by Monolith Productions. It incorporates many tropes from early 2000's and late 90's movies and games to create a game that stands out on its own. For the next few minutes, I would like to share why this game is so great and why those who have not played it or are not fans of FPS games should go play it.
Story
While the story is not the games strongest suite, it is still engaging enough to keep you motivated to play it to the very end. A dangerous telepathic criminal named
Paxton Fettel
has escaped from prison and has telepathically controlled a large battalion of soldiers known as
Replicas
to take over a company known as the
Armacham Technology Corporation
. You play as
the Point Man
, a (Silent) man working for a military organization known as First Encounter Assault Recon or F.E.A.R. for short. Your goal is to hunt down Paxton Fettel and eliminate him. As you progress through the game, you learn that Fettel has a strange fascination with you as he stalks your mind throughout the game. You also learn about his connection to a young girl named Alma, who also terrorizes you, attempts to kill you, and show you things that make you say…. "What the f***?" You learn that Alma is a dangerous being who has the capability of essentially ending the world. Throughout the game you see her in the corner of your eyes and watching you. You learn that she has it out for both Paxton Fettle and YOU! But why?

Gameplay
If I had to describe F.E.A.R. in four words, it would have to be "Balls to the Wall." The game is essentially a cross between
The Matrix
and
Max Payne
with a little bit of
The Ring
horror thrown in. Your character, the Point Man, has the ability to increase his reflexes by essentially slowing down time in
Bullet Time
manner Similar to Max Payne and The Matrix. It only lasts for a short amount of time however but you can increase this time by picking up hidden items throughout the game.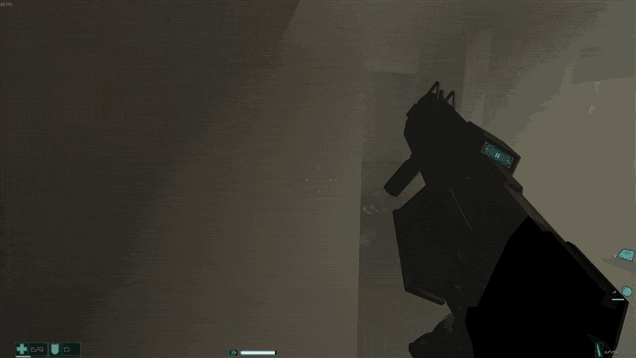 While the ability to slow down time and take out enemies is fun in and of itself, the real Joy comes from how you do it and with what weapon are you doing it with. The enemy Replicas in this game are very smart. They talk to each other, inform each other on where you are and how they should go about flanking you and taking you down. Since their AI is so smart, it makes it all the more satisfying when you take entire Squad of them down. This is what I would say sets F.E.A.R. apart from other FPS game in that the enemy placements are different then say Half Life or Halo (Not bashing these games at all. These are my two favorite games.) In Half Life and Halo, you have to deal manly with waves of enemies. In F.E.A.R, they all exists as individual squads in arena like areas. Since these areas are relatively small and the enemy AI is so smart, you can't just camp out in a single spot or the Replicas will surround you and kill you. You have to move around the arena to avoid getting trapped and to sneak up on the Replicas.
While there are not to many types of weapons in this game, they are all diverse enough to keep fighting the same enemies over again fresh and exciting. You have your standard sub machine gun and assault rifle, which are good for taking out enemies from a distance, you have your standard pistol and shotgun (Which I will talk about next), and even some crazy weapons like a nail rifle that shoots nails at your enemies that can pin them to the wall. Every weapon has a practical use and is fun to use. When I say fun to use, I mean every time you fire a weapon, a grin will start appearing on your face. When you fire a gun, there is a bright muzzle flash and its loud. It feels like theirs weight behind every shot. When you hit enemies, their bodies will react to every shot to the point that they will go flying in the air after you take them down. When the bullets hit the environment, they will bounce off, creating bright flashes and multiple sparks that light up even the darkest of areas. The environment will even alter when you shoot it. In games like Halo or Call of Duty, there would simply be bullet holes in the wall that look like they're just pasted on. In F.E.A.R. however, the walls will chip, papers will fly, the environment will get completely destroyed even by the weakest of guns. It is truly satisfying to witness. While details like this may be considered standard today, this was new and impressive back in 2005. Half Life 2 massively innovated the gaming industry with their realistic physics so its nice to see other games innovate in other areas that Half life 2 did not.

Pistols, the Shotgun, and Kicking
That's right, these three things are getting their very own section. Because if you are not using the shotgun, pistols, or are not kicking enemies at all while playing, you are playing the game wrong. Starting with the kick, the Point Man is able to run up to Replicas, jump, and kick them down. The kick is surprisingly strong and satisfying to do in an intense battle with the Replicas, although it is risky since they travel in squads. You can perform a running jump kick or a sweep kick by standing still. While its not the best way to take out enemies, it is certainly one of the most satisfying.
Carrying a pistol is nothing to ride home about, but carrying TWO pistols at the same time is. This just may just be a personal opinion but dual wielding is a cool concept. Its cool to jump off a ledge in slow motion onto an enemy while shooting at their head with dual pistols like Max Payne. It's satisfying to strafe left and right, taking down multiple enemies with pistols. Like the other guns, they have weight behind every shot and you feel like you are doing damage.
Out of everything I have said so far, all the good things and great things, nothing is as good as the shotgun in this game. It is a devastating weapon that is widely available through the entire game which just makes things better. There is no need to conserve its ammo because odds are there is more ammo for it right around the corner. At first glance, the gun looks like your average shotgun from any other game, but that don't let it fool you. It has the capability to send enemies flying with a single shot, rip through entire squads of enemies as if they were paper, and make a light show that rivals the fireworks you see on The Fourth of July. Above I said that bullets will create sparks when they hit the environment. Since the Shotgun sends out multiple pellets when it is fired, dark rooms will light up with every shot which is ultra satisfying to watch.
The Sequels
F.E.A.R. had two expansion packs and two sequels to it. The expansion packs play nearly identical to the core game, only adding a few new things to make it worth the price of admission. This is not a bad thing however since the core game is perfect and fun to begin with. I highly recommend playing these two if you enjoy the actual game.
F.E.A.R. 2 can be seen as a "slight" disappointment to some. While it still has almost all of the traits that make the originals great, it doesn't have everything. The dual pistols are gone, the shotgun isn't as fun to shoot, and the arena combat in the first game no longer exists. I would like to make it perfectly clear that F.E.A.R. 2 is NOT A BAD GAME. It's not, it's a great game, not a perfect game like the original, but a great game nonetheless. It expands on the story left by the first game from a new characters perspective and diversifies the types of enemies you face which I would say is my favorite part of the game. There are about two types of enemies in the first game that don't behave any differently from another. To some, this can get stale. Luckily the game is fun enough for it not to be a big issue. Luckily F.E.A.R. 2 adds in multiple types of enemies to make the game fun and fresh.
Don't play F.E.A.R. 3……………………………………… Don't…………………………………………… Just…… J-Just don't, okay? It's not a good game. It's borderline terrible. It has nothing in common with the first 2 that made them great. The only good thing that the game did was add co-op but that is not enough to make this game worth your while. Let me put it like this. The fist F.E.A.R games sit at number 8 on my favorite games list. The story engages me and I frequently go back to play them….. I have not finished F.E.A.R 3. I want to but I can't do it. Its just sooooooooooooo baaaaaaaddddd. The game was not made by Monolith which explains why it is so bad.
Conclusion.
Earlier I summarized the game in four words, but if I had to summarize it in ONE word, it would be…….. "Satisfying." Do you know that feeling you get when you rip off the cellophane of a new game or that feeling you get when you pop bubble wrap? That is this game. Shooting down enemies in this game is the most satisfying experience I've had in a game. Everything from the taking down entire squads of enemies using nothing but your whit and cunning to simply firing a shotgun at a metal table is mouth grinningly satisfying.
I highly suggest everyone here play this game even if you don't like FPS games. I can't stand to play most of them nowadays but I always find myself going back to this game just for some fun "Balls to the Wall" action.
So, What do y'all think of F.E.A.R? Have you played it? What is your favorite moment in the game? Is the Shotgun really a must have weapon?