Every year
or so, the GBAtemp Moderating Team (also known as Forum Staff) undergoes important changes. Well it's that time of the year! Promotions, departures, new arrivals... Here is a summary of the recent changes.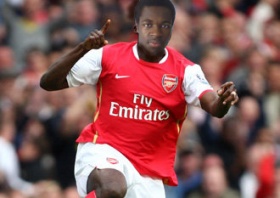 Promotions
raulpica, Minox_IX, p1ngpong, TrolleyDave and Vulpes Abnocto are now

Global Moderators

tj_cool has made it straight to

Supervisors

thanks to a combination of wisdom and l33t technical sk1lls
Toni Plutonij blackmailed me into promoting him to

Supervisors

, so I had no choice.
Demotions
dice decided to leave his position of Supervisor to fully dedicate himself to Arsenal where he plays as a striker (see photo above)
Gaisuto, Narin and WildWon requested to be moved to the Former Staff group due to lack of time
lagman disappeared a few months ago, we believe it has to do with the Mexican mafia

From what we understand OSW decided to spend his time rebuilding his hometown in Queensland, Australia
Hadrian needs to spend more time with his adorable daughter
Needless to say, all our friends will be sticking around as Former Staff and will still be considered part of the family.
New Moderators
ProtoKun7

will be in charge of the Other Systems and GBAtemp Network sections

Densetsu3000

will be silently watching the massive NDS section

Depravo

will moderate the NDS section as well

Cyan

will be keeping the Wii section as colorful as possible...

GeekyGuy

has yet to make his decision about sections to moderate! NDS it is!
Along with these specific sections, moderators will also be in charge of common forums such as the Off-Topic and News sections. Also please note that Magazine Staff promotions and demotions are being handled separately.
If you didn't make it to the staff this time, don't give up just yet! Our next round of promotions could be just around the corner...

What are the ranks on GBAtemp?

How do you become a GBAtemp moderator?