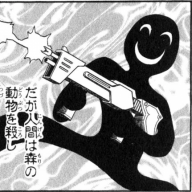 Joined

Feb 19, 2020
Messages

470
Trophies

0
Age

19
Location
XP
Country
Colorization hacks for monochromatic Game Boy games are my favorite, so I've decided to let people know what I think of them and what games for GB I want to see in color.
Super Mario Land 2 DX (toruzz)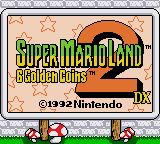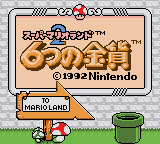 Simply, and without doubt, my favorite of them all. This is exactly how the game would have looked if Nintendo actually released it - with all sprites colorized individually via overlapping method, and it's even possible to play as Luigi with separate physics. Anybody who has a GBC must play this and not the original. For better experience I also recommend to apply a small patch that fixes a graphic mistake on Bunny Mario's sprite. Strange though, the hack is based on the 1.0 ROM rather than the 1.2 one which fixes some bugs.
For those curious out there, I have also added the title screen from the Japanese version.
Super Mario Land DX (toruzz)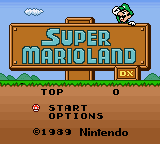 This one is also my favorite. Yes, the Game Boy launch title has also been properly colorized and the graphics have been changed too, so for example Daisy now really looks like Daisy as in the original she looked more like Pauline. With the new update, it gained lots of fixes/improvements, redone sprites (especially the enemies, to look more like their official artworks), an options menu at the title screen which lets you choose between new and old graphics, difficulty mode (easy or hard) and, finally, you can now play as Luigi. There's even SRAM to save your high score and settings. Like Super Mario Land 2 DX, however, this hack is based on the 1.0 ROM instead of the 1.1 one.
Above, you can see how the title screen looks like with either Mario and Luigi.
Metroid II - EJRTQ Colorization (EJRTQ)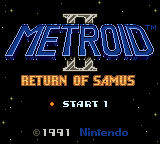 What people wanted and tried for a long time (over a decade) and now have finally succeeded with this hack. One of the best 2D Metroid games now shines in full color and even colorizes Samus' helmet properly with the green visor instead of the same color as her armor. I strongly recommend to apply a patch that fixes the arm cannon graphic after switching from missiles and obviously the Canon Samus patch which gives a much better look to Samus' appearance in the good ending.
Dr. Mario DX (marc_max)
Even if I'm not a fan of Dr. Mario, I somehow got addicted to the relatively easy gameplay where you must align 4 or more pills/viruses of the same color: blue, red and yellow. The Game Boy port of the game wasn't really the best as it instead used monochromatic pills (shaded, black and white) that look odd, worse if you play on the GB green-matrix screen you may not be able to see them. So this is where this hack, made by a Spanish ROM hacker nicknamed marc_max, comes in. You now have the pills colorized properly and the virus' graphics have been altered to look more like the NES version. Yeah, this one is also one of my favorite colorization hacks. And unlike Super Mario Land 1 and 2 DX this hack is based on the Rev A ROM!
Pokémon: Red Version and Pokémon: Blue Version Full Color Hack (Drenn)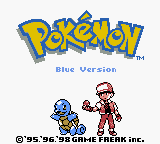 First of all, let me say that
I am NOT a Pokémon fan
. The reason for this is that nowadays, everywhere I go I find Pokémon or something related to it (Pikachu, for example). It's basically one of the most overrated game series ever. Anyway... these you see above are the games that started it all and you've got them colorized as if they were official releases. As for the battle sprites, they have been colorized and even replaced with those from the Gen 2 games, making it look like you're playing Pokémon Gold/Silver/Crystal instead! Of course there is also a patch that leaves the Gen 1 sprites intact (the backsprites are still from Gen 2, however).
Shame though that this colorization was made exclusively for the English ROM, when these games were also translated into five other languages including mine (Italian).
Kirby's Dream Land DX, Kirby's Dream Land DX Revised and Kirby's Dream Land DX - Fluffy Repair Service (respectively GreenAndACat, ShadowOne333 and minucce)
...Oh
god
. *pants heavily* The horror. This one is not a colorization hack, it's nothing but a total abomination. Yeah, at least some stuff was colorized, mainly Kirby's sprite, but it's not used in the best way ever, so some stages (e.g. Green Greens) either have wrong colors or uncolored objects, and the transition effects are also ruined. Let's not mention King Dedede who absolutely hasn't got the right colors and is half-corrupted in battle and in the credits. I do not recommend to play this hack at all and instead keep playing the original monochrome version in the hope that someday a skilled romhacker decides to colorize this Game Boy masterpiece
properly and decently
.
There was also a patch made by minucce that fixed all the issues in the original hack and added a SGB border, but was taken down. So we can only wait for a brand new colorization for this game.
Kirby's Pinball Land DX (kkzero)
Woah, surprisingly well done. The first of the Kirby spin-off games ever released has been colorized so finely that it looks official, and the palettes for the three stages of the game are also nice (like Kracko's stage for example). And Scarfy is also orange instead of pink. With a recent update it also gained color improvements, all graphic garbages fixed (i.e. when pausing the game), the usage of the GBC's extra CPU and even an error screen for when this is played on the original Game Boy. All in all, it's a real great colorization. Perhaps this hack could be the inspiration to color Kirby's Dream Land in the right way...
Kirby's Dream Land 2 DX (kkzero)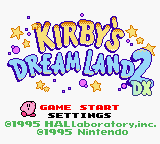 "A game with rainbows that has little to no color". That's how some people ironically defined this game since it was first released. Well, keep your irony aside now, because the mainline Kirby game where the Animal Friends have debuted is now completely in color. Just about everything you'd expect is colorized, including Rick, Coo and Kine, and there are also some cool gimmicks like rainbow palette cycling, smoother fade effects... and more. There is even a settings menu that allows you to change the status bar color, enable/disable the Animal Friends themes and turn the palette cycling on the HUD on or off. You can even play it in CGB+SGB mode, too! I am not going back to the colorless original, this hack is now the only way for me to play this game.
Mega Man World 5 DX (marc_max)
This, out of all colorization hacks, is the one many have been waiting for ever since it was announced, the last Mega Man game released for the Game Boy (and the only one to have a Super Game Boy mode) is now in color. It clearly shows how much effort went into making the game look like the NES games: colorized sprites with face mechanic, more detailed backgrounds, Mega Man's armor changing palette when switching between weapons, the classic NES-type font, and last but not least, a much better looking pause screen with weapon icons! Seriously, do not play the original monochrome version ever again. Mega Man World 5 DX hack is the definitive way to enjoy this classic!
Alleyway DX (MojoDodo)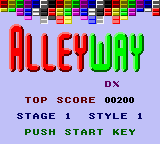 Another one of the games that, back in 1989, launched the Game Boy, it's just Breakout with a Super Mario Bros. feel to it. Not only this patch gives the game full color, but also throws in various improvements like a 5-digit score, a level selector on the title screen, the possibility to change the blocks' style with the Select button and, most importantly, high score saving. It's even DMG compatible, which makes it pretty versatile even if you don't have a Game Boy Color. My only complaints: some colors are excessively bright, certain in-game stuff (like Mario himself) should be graphically improved and I also wish the background was white instead of the color you see here.
Arcade Classics No. 3 - Galaga & Galaxian DX (MojoDodo)
1979 and 1981 were the years in which we saw the release of two iconic shoot 'em ups: Galaxian and Galaga. This little package for the Game Boy contains them
both
and is even compatible with the Super Game Boy. From it, this colorization hack comes out and does a pretty good job on Galaxian (even though the background is a very dark gray instead of black). As for Galaga... it's a completely different story, it is left with the unfitting SGB palette and the sprites aren't even that accurate to the original arcade, which is a true shame. I don't think I will recommend this hack until MojoDodo gets back on this and gives color to Galaga. Sorry, but unfinished colorizations are not my favorite.
That was pretty much it. Now I'll tell what games I want to get a DX treatment.
Yoshi (JP: Yoshi no Tamago, EU: Mario & Yoshi)
Yoshi's Cookie
Atomic Punk (JP: Bomber Boy, EU: Dynablaster)
Adventure Island I and Adventure Island II: Aliens in Paradise
All Mega Man titles for Game Boy, from

Dr. Wily's Revenge

to IV
Kid Icarus: Of Myths and Monsters
Dig Dug GB
Street Fighter II
Bubble Bobble and Bubble Bobble Part II
All Teenage Mutant Ninja Turtles titles for Game Boy (Fall of the Foot Clan, Back from the Sewers, Radical Rescue)
Pac-In-Time (SGB Enhanced)
Mario's Picross (SGB Enhanced)
Contra: The Alien Wars (SGB Enhanced)
Adventures of Lolo (SGB Enhanced)

Wario Land: Super Mario Land 3

Donkey Kong '94

(SGB Enhanced)
Wario Blast: Featuring Bomberman (JP: Bomberman GB) (SGB Enhanced)
Bomberman GB (JP: Bomberman GB 2) (SGB Enhanced)
RED TEXT:
a game that has been colorized but is terrible in quality
GREEN TEXT:
a game that is currently being worked on to DX.
What GB games would you like to see colorized?