Hi guys!
Do you know about 'Egg NS', the recent closed-source (but free) Switch emulator for Android devices?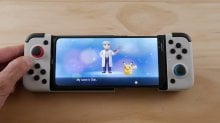 The modern and powerful Snapdragon SoC (855 or better) is required, I guess. The
game compatibility list
is here.
I
didn't
try to run It yet by myself, but it looks very promising and fascinating!..
Here're some videos by devs (appears that they're a Chinese team) and a tech reviewer:
More videos.