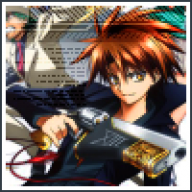 Joined

Apr 21, 2009
Messages

2
Trophies

0
Age

35
Location
Website
XP
Country
*DYNAMIC ENTRY*
*KEEPS RUNNING*
*AND RUNNING*
*Trips and falls* T.T
Damn..
I'm never good with entries v.v
*Jumps right in the middle of the forums and looks around*
Damn! So Many ppl online

I WUV IT!
*Makes himself at home*
Meh..
Here is some info about me

I'm known in Chronos as No. XIII, by many I'm known as Black cat, the bringer of bad luck, I kill smoothly and with no trace.
The number 13 (XIII) is branded on the left side of my chest.
Age: 23 Years
Date of Birth: April 13th
Height: 175 cm (5 ft 7 in)
Weight: 65kg (140 lb)
Blood Type: O
Weapon: Hades (Orihalcon Pistol. 6 Rounds, 2.5 kg)
Likes: Milk, Seafood, Cake
Dislikes: Tears of a woman
Hobbies: Napping
I possess 20/10 vision in both eyes, which allows me greater sight than normal people. I'm an extremely skilled marksman, able to accurately shoot down bullets from other guns, and make a number of bullets hit at exactly the same time. I can also shoot a number of bullets while in the air to accelerate it into a spinning slash, "Black Claw", that leaves four large slash marks. I also use specialty bullets created by my bullet maker, including the Burst Bullet, which produces an extremely large amount of damage, bullets that freeze opponents, and bullets that paralyze opponents. My gun is made out of the very strong metal called Orichalcum, which allows me to use the gun to deflect bullets and guard against other attacks. When my body becomes infected with nanomachines I manage to manipulate them into creating static electricity. This allows me able to focus the electricity into a the barrel of Hades, turning it a railgun. I'm able to fire four of these daily, due to the energy consumption it takes to create the electricity. I can also focus all of the remaining energy in the nanomachines and fire a powerful version of the Railgun, called the Burst Railgun.
My personal motto:
Don't Worry.
And now some RL info about me xD
I'm an ex-ds owner... It broke >.> T.T ... Yeah I'm a klutz, sue me!
I've got a PSP slim atm.. CFW ofc xD
I'm a Final Fantasy Fan..
Hmm..
Uhmm..
GAH!
Dnno..
Just ask me >.>
Whew..
What a long intro post ROFL..
I think I'm getting banned already ^^