Dingoo A330 announcement & news
Live from Dingoo land
The good thing about working with people like the
ShopTemp Team
, it is that GBAtemp now gets to know how things work directly from the inside. We have recently read about issues with Dingoo A320 being shipped by ShopTemp and other shops; some consoles being unable to start official and community applications & emulators, among other annoying problems.
So we thought we should just ask the Dingoo manufacturer themselves. And not only did we get an answer, but we got other news to share! The ShopTemp guys have managed to get a goldmine of information. Here's the raw deal, directly from the Dingoo manufacturer:
Regarding the HK console, there has been complete confusion and misinformation. The official word is that there is no HK or non-HK version, they only manufacture one version of the console. However, one of their ex-employees has been working with competitors to spread false information and rumors on the Internet (quoting them). In the meantime, our ShopTemp partners confirm that they have definitely spotted fake clones on the electronics market in Shenzhen, but these are quite easy to tell apart and the cost price is much lower than the real thing.
Lately, some customers have received consoles that failed to run official and community applications & emulators. The Dingoo Team has been made aware of the problem, and are asking us to gather a complete list of all official/homebrew software that fails to run on those consoles, in order to help them figure out the issue. The issue may affect *any* retailer that gets new stock at this point, including ShopTemp and many others, as seen on the Dingoonity forums. So if you own one of these consoles, please help us complete the list by replying to this topic.
They unveiled exclusive information to the ShopTemp Team regarding their newest console: the Dingoo A330!
The Dingoo A330 will be released later this month or sometime next month.
From the packaging, it seems that the console will come with the following emulators: GBA, SNES, NES, Mega Drive, Neo Geo, CPS1, CPS2, Lynx, GBC, Master System
It will come with an embedded 2.4 GHz radio receiver in order to support wireless game controllers
The following video formats will be supported: RMVB, RM, AVI, WMV, FLV, MPEG, DAT, MP4, ASF. As for audio, supported formats are MP3, WMA and FLAC. Apparently the media player has been enriched with many new features too.
Among the features described on the packaging, it seems the console will (still) come with an FM radio module, a digital recorder, an image browser (supporting JPEG, BMP, GIF and PNG), an e-book reader which can be opened while playing music and U-Disk functionality.
We do not have any information regarding technical specifications, but we will make sure to ask as soon as possible. However we already know that the internal storage will remain unchanged, 4GB flash memory with MiniSD card support.
ShopTemp will be selling the Dingoo A330 as soon as it gets released, they will even open pre-orders soon!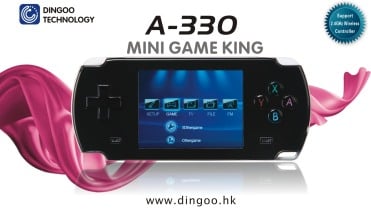 Click image to view full packaging photo

 View product and packaging photo
large
(250K),
extra large
(2.5 MB). Those photos are courtesy of the Dingoo manufacturer so feel free to steal them, but please do not hotlink them from our server.

Visit official Dingoo website

 Check out the
Dingoo A320 on ShopTemp

Discuss and help us build the software list