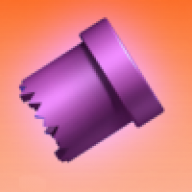 Joined

Dec 5, 2009
Messages

839
Trophies

1
Age

29
Location
Website
XP
Country
I felt like reviving blargSNES some, so let's see how far this goes.
Anyway:
For blargSNES 1.4, the codebase has been renovated. It builds against modern libctru, and runs on the latest homebrew launcher, all while retaining its old early-homebrew feel.
Then I found myself having to backport all the improvements from the veryhard branch, because I'm a derp and went with master instead of veryhard as a base for my renovation work. Oh well.
So, what do we have here?
We have DiscostewSM's pile of improvements, namely: hardware-accelerated mode 7, revamped audio, input and CPU fixes, and other fun stuff.
I have also been optimizing the renderer a bunch, so it should run faster than ever.
And, as witnessed by the Cool Spot screenshot, I added support for midframe changes to palette/OAM/VRAM in the hardware renderer.
I also added proper options for VSync and frameskip. VSync on will tie redrawing to the screen's refresh rate, eliminating any screen tearing artifacts but making slowdowns harsher if your game isn't running at fullspeed. Frameskip has some manual skip levels and an auto mode which tries to mimic the behavior of the old frameskip (albeit better, maybe).
Get the release in .3dsx flavor here:
blargSNES 1.4
For further releases, I intend to try tackling some longstanding issues with blargSNES. Namely, the CPU/SPC sync issues come to mind, or the lack of mosaic support...
Have fun!