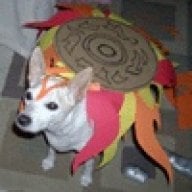 Well-Known Member
OP
Member
I was on a work trip to China some days ago and I saw something weird while shopping on my free-from-work day.

When I asked for PS3 games on some stores, they brought me a tower of games. However, the cases where not as wide as normal and the cover seemed to have been printed with a slightly different ratio in order to account for it.

I wanted to open the cases to look at them, but they did not allow me. For some reason, I did not notice that they were wrapped when I asked if I could open them, but they were.

So... Were these games a rip off or are PS3 Games Back Ups on Blu Ray discs now available? I'm pretty sure they were not the real deal.