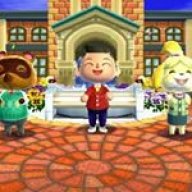 Active Member
OP
Newcomer
Hi everyone,

I'm having a problem with Animal Crossing: New Leaf (ACNL). My sister started playing on a hacked* USA O3DS with a USA .CIA of ACNL ages ago and now has a USA Save File for it obviously. She now has a better (also hacked*) EUR NEW3DS and has many games on that and wants to put her USA save file on this EUR console with an EUR version of the game. She has spent hours on the game and doesn't want to start again.

I tried using JKSV and SaveDataFiler many times and rearranged files and tried everything with them, but it all resulted with the game saying the save file was corrupted and needed to be formatted.

I know I can just install a USA .CIA of the game onto her hacked EUR 3DS but she really would rather the EUR version of the game. Any help/suggestions/solutions? Much appreciated.

*ALL 3DS'S were hacked using Plailect's guide.