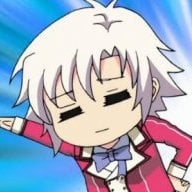 Joined

Oct 27, 2007
Messages

3,150
Trophies

0
Age

30
Location
Website
XP
Country
Wow, no thread about Vanquish? GBAtemp must REALLY hate playing real games. The game is repetitive? Boo hoo, all fps and most TPS are the same. It's too short? I'll explain about that in a sec. No replay value? There's 5 difficulty modes, a challenge mode, and an online scoreboard. Tons of replay value.


The story sucks, but they made it terrible on purpose. Why? It's just how Mikami rolls. God Hand really comes to mind.


The game is actually about 8-12 hours, because whenever you die, you get the option to go back to the last checkpoint, or the beginning of the mission. The game does not keep track of the time you wasted from dying, and thus feels like a shorter amount of time that it should be. Took me nearly an hour to beat this one part of Act 1 (I'm playing on hard mode) and it says that I spend 20 minutes on it.


You're not supposed to take cover in the game. In fact, at the score screen, it even penalizes you if you take cover too much. There's also an enemy that pretends to be a cover but actually attacks you.


Make use of the boost, bullet time, and melee attacks. Don't forget that every weapon has a different melee attack. Using a melee attack drain's Sam's suit dry, but if it didn't take drain it fully, you'd be extremely overpowered and would be spamming it. Protip. The Disc Launcher gun's melee attack does not drain Sam's suit.


Don't call this a Gears rip off because the game wants you to take as little cover as possible. It should also be mentioned Gears isn't the original TPS that came up with the idea of having chest high walls.


When you actually do take cover, grab a cigarette via L2. Not only does it regenerates the suit faster, (hah) Sam throws it into the air after he's done smoking. What does that do? It actually gets the attention of the enemy, and they actually shoot at it. There's an achievement/trophy for killing enemies while they're distracted.


Enjoy.