My PS4's web browser stopped working the other day and I had to reinstall the PS4 5.05 update and rebuilt my app database.. ever since, I've been experiencing some weirdness and want to start over with a fresh HDD.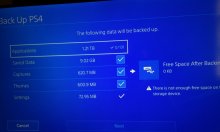 The issue I'm having now, is that I can't seem to backup my profile settings. I'm being told my USB doesn't have enough space, and I'm only trying to backup the profile settings, themes, etc - no games. I tried a couple different drives, FAT32, exFAT, MBR.. formatted both on PC and from the PS4 options menu. It still insists I don't have enough space. Is there some way to backup manually within the jailbreak, or anything else I can try? Or will I need one of those hacked "Activated" accounts from now on?
Update: Unfortunately I was never able to get this resolved. I just started fresh when I upgraded the internal drive.
Please see
xatapkova
post for a possible solution to db_rebuilder script issue:
https://gbatemp.net/threads/unable-to-backup-ps4-profile-settings.576947/#post-9556523