Hello,​
this is my first homebrew, i hope you enjoy it:​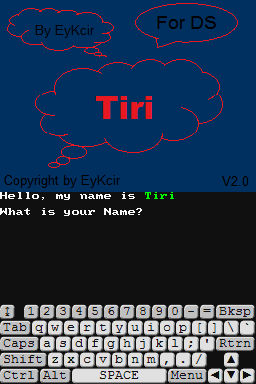 Tiri is a typing Siri for DS.​
You can speak with Tiri and she will answer.
Try to say hello or asks her how she feels.​
If you have a idea for questions and answers you can send it to me via PN.
​
Download:​
Other:​
Please use the adf.ly link, thx
​
Changelog:​
V2.0​
- More answers
- You can clear the screen with /clear
- ION renamed to Tiri​

V1
- Release

V1.1
- Added english
- More questions & answers​
To-do:​
- more functions​
- better design​
- more answers​
- more languages​
(Sry, for short english description, but my english is very bad )​