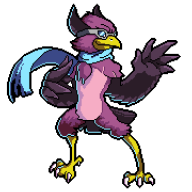 Well-Known Member
OP
Newcomer
Joined

Apr 7, 2016
Messages

99
Trophies

0
Age

32
XP
Country
Here are some relatively intuitive tools for how to edit/dump/create Smash 4 Material Animations which are useful for if you want an animated sprite stage, a scrolling texture, color animation, etc. Anything you can do with materials you can do with MTA, just in an animated fashion (and with some other stuff as well!).
If you need a starting tutorial on how to use it,
here is a small pastebin writeup on usage.
Download (MTA Creator)
(Note: this link might go dead, hit me up if it does and I'll reupload it)
​
Next here is some handy tools for editing path.bin, a file found in some stages for camera movement, one such example being the skyloft stage. If you need an example I'd dump the skyloft path.bin located in the animation folder using the dump .bat then look at how the CSV is formatted (Note: if you understand how the CSV for path.bin is formatted you can just make one from scratch instead of building off of a dumped path.bin, same goes for MTA creator).
If a stage does not have a path.bin all you have to do is add one to the animation folder and it'll work out of the box. So make all the moving stages you want. If you want to attach a model to the camera so it moves along this path also just name the model stc_fix_ring_set and all collisions are already parented to the camera (working on a way around this)
Download (path.bin Creator)

General usage for both is to drag a file of that type over the dump.bat in order to get a CSV dump of it. Edit that CSV (or make your own in the same format) and drag it over create.bat to make a new MTA/Path.bin
​
Enjoy!
Testers/Help:
-DSX8: MTA testing
-Smb123w64gb: MTA testing/PAT0 code
-Pib: path.bin testing
My twitter, a great place for updates and stuff -
https://www.twitter.com/jam1garner
TL;DR:
Animated color, sprites, camera movements, UV, materials and more. Should help spice up stages a lot with some eye candy.