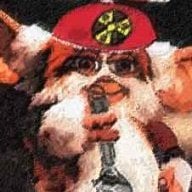 Joined

Apr 10, 2008
Messages

1,171
Trophies

0
Age

31
Location
Website
XP
Country
BESIDES the DS or PSP. I haven't gotten a GP2X Wiz yet, but its still on the list of things to get.
Can anyone recommend me a PPMP (PMP

). It doesn't have to play games.
I'm looking to spend no more than $160 bucks, all told and I'm open to suggestions. I haven't been following Tech News in about a year, I'm sure I've missed alot.
I want a lot of features (at least 5). Its mostly gonna play MP3's and Anime episodes, but I also want to be able to read e books on it. I dont care about Internet access, if its there, fine. If it isn't, thats why I have a laptop and to a lesser extent a DS. Blue Tooth is wasted on me, I wont pay extra for it.
I need at least 40 gigs if the hard drive is fixed. It'll be better if there is a set hard drive but it also allows me to use memory cards. USB compatibilty is desired.
I dont know where to start...Its hard, trying to get back into the Tech realm...but I want to go ahead and get something. Its been a LONG time now...I check Amazon and deal extreme but nothing caught my eye. I know there are a lot of PMP devices on the market, a few years ago there were a few available online only from China or Japan that were said to be pretty good and cost about $80 bucks but I cant remember what it was called...something about a Fish maybe? I dont know...